Big Friendship by Aminatou Sow & Ann Friedman
Are you looking for a multicultural book about friendship? Try nonfiction title Big Friendship by Aminatou Sow & Ann Friedman. Discover a book summary, book reviews, and book information here.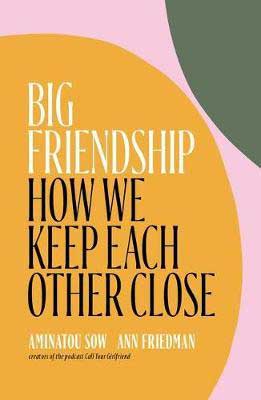 This post may contain affiliate links: If you purchase through my link, I will receive a small commission at no additional cost to you. I only recommend products/services that I approve of. See my full Disclosure Policy.
Authors: Amintatou Sow and Ann Friedman
Genre: Nonfiction | Friendship | Women's Studies
Pages: 251
Publisher: Simon & Schuster
Publication Date: July 14, 2020
Buy Now: Amazon
Also A July 2020 Book Of The Month Selection
Grab the best books here:
Big Friendship by Aminatou Sow & Ann Friedman Summary
A close friendship is one of the most influential and important relationships a human life can contain. Anyone will tell you that! But for all the rosy sentiments surrounding friendship, most people don't talk much about what it really takes to stay close for the long haul.

Now two friends, Aminatou Sow and Ann Friedman, tell the story of their equally messy and life-affirming Big Friendship in this honest and hilarious book that chronicles their first decade in one another's lives. As the hosts of the hit podcast Call Your Girlfriend, they've become known for frank and intimate conversations. In this book, they bring that energy to their own friendship—its joys and its pitfalls.

Aminatou and Ann define Big Friendship as a strong, significant bond that transcends life phases, geographical locations, and emotional shifts. And they should know: the two have had moments of charmed bliss and deep frustration, of profound connection and gut-wrenching alienation. They have weathered life-threatening health scares, getting fired from their dream jobs, and one unfortunate Thanksgiving dinner eaten in a car in a parking lot in Rancho Cucamonga. Through interviews with friends and experts, they have come to understand that their struggles are not unique. And that the most important part of a Big Friendship is making the decision to invest in one another again and again.

An inspiring and entertaining testament to the power of society's most underappreciated relationship, Big Friendship will invite you to think about how your own bonds are formed, challenged, and preserved. It is a call to value your friendships in all of their complexity. Actively choose them. And, sometimes, fight for them.

Simon & Schuster
About The Authors, Aminatou Sow & Ann Friedman
Aminatou Sow is a podcaster, writer, and co-founder of Tech LadyMafia. She also co-hosts the podcast Call Your Girlfriend with Ann Friedman.
Ann Friedman is a journalist and media entrepreneur. She lives in L.A. and studied journalism at the University of Missouri-Columbia. Read more about Ann Friedman.
Check out the Call Your Girlfriend podcast.
Where You Can Find Big Friendship Reviews On The Uncorked Librarian
Find even more nonfiction and fiction books on friendship on this massive reading list for adults and teens.
See what books we read this August 2020 including a book review for Big Friendship by Aminatou Sow and Ann Friedman. You'll also find book suggestions like How To Be An Antiracist, The Vanishing Half, Dear Martin, and The Beauty In Breaking.