Are you headed to Pärnu, Estonia? Check out these 11 best things to do in Pärnu, an infamous Baltic beach destination. Find beautiful churches, street art, cafes, and, of course, Pärnu Beach.
---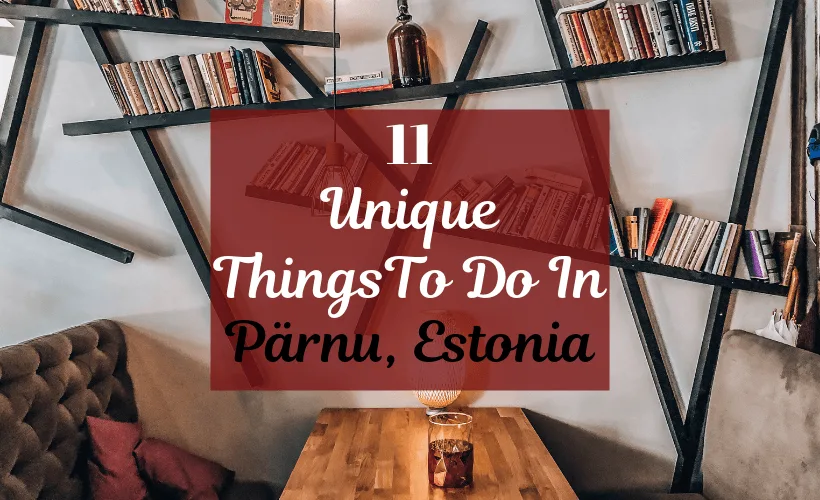 Pin
When everyone heard that we were driving the Baltic States in 7-days, they highly recommended visiting Tallinn, Estonia. Don't get me wrong: Tallinn is special. In fact, we spent a few days strolling through Old Town and local neighborhoods. However, Pärnu, Estonia quickly captured our hearts and fantasies of a New England summer, easily becoming my favorite Baltic city.
A beach town that is largely deserted in the winter and early spring, Pärnu greets visitors with quaint streets and stunning architecture. Hidden murals lay ensconced between cozy cafes and bars. The beach is in within walking distance of downtown Pärnu.
Pärnu is one of those places where you don't need a lot of time but could spend hours meandering through streets, shops, and the beach promenade. Driving from Riga, Latvia to Tallinn, Estonia, Pärnu is almost the midway point. Road trippers pretty much pass through Pärnu, and I'd say you'd missed out if you don't stop.
While we did not have accommodations in Pärnu, we stayed for a day and stopped back through for a second round to and from Riga, Latvia.
Whether you have a day or three, these are the 11 top things to do in Pärnu, Estonia, according to this uncorked blogger at least. My biggest advice, though: Just wander, eat, and uncork. I dare you not to fall in love with a town full of gorgeous doors and salty vibes.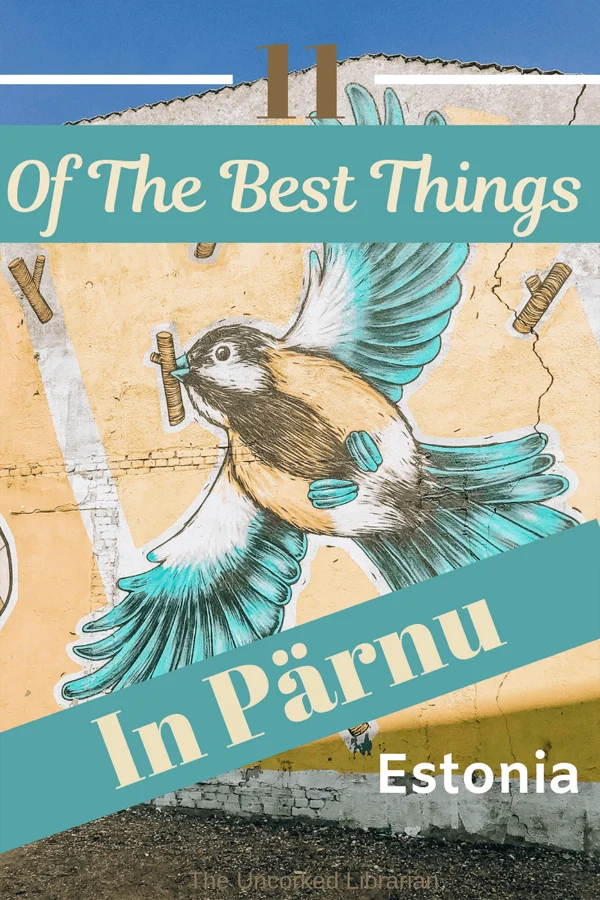 Pin
The 11 Best Things To Do In Pärnu, Estonia
Top Things to See In Pärnu
Although not the canals of Venice, I found myself lost in the streets of Pärnu. Granted, the town is small and not hard to navigate. If it wasn't a holiday, we would have stopped at the Visitor Center for a map. My biggest problem: myself. I couldn't stop running from door to unique door. Plus, when you are on a hunt for hidden architecturally magnificent churches tucked into and around unsuspecting corners, you lose track of yourself.
Truly, I became a zombie, church-wandering enthusiast.
Get lost downtown and don't miss these top sights in Pärnu: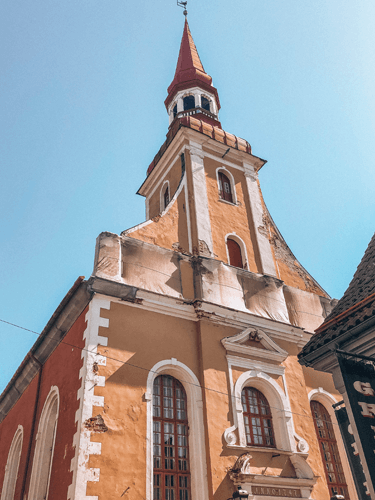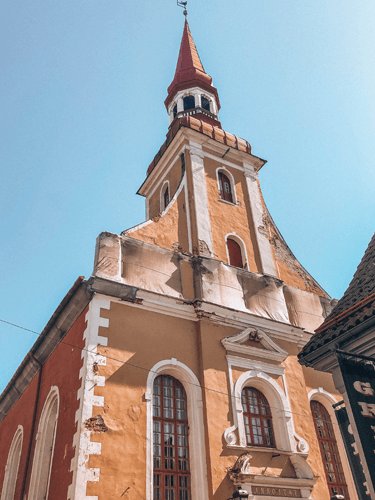 Pin
1. St. Elizabeth's Church
Founded in 1741, with the donation of 8,000 roubles, Russian princess Elizabeth sparked the church's 1744 construction. St. Elizabeth's Church is adequately named after its donor and is a Lutheran church. Most unique is that St. Elizabeth's boasts of international influence. With Latvian architects, the spire is a common structure seen in Riga. Both Estonian and Dutch designers also included additions to the altarpiece, organs, and extensions.
Read more about St. Elizabeth's Church in Pärnu.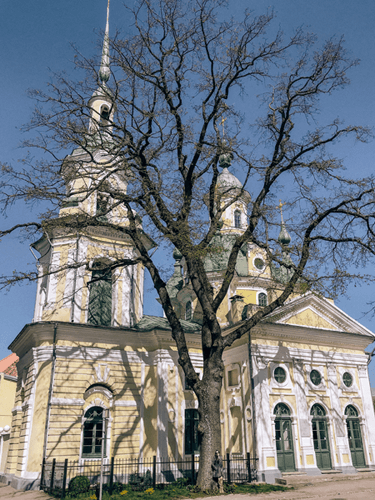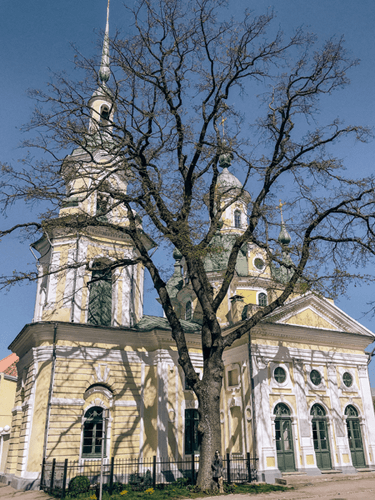 Pin
2. St. Catherine's Church
Built in the 1760s, St. Catherine's Russian Orthodox Church is the yellow canary of baroque beauty. Does that sound like a character out of Arrow? Like St. Elizabeth's Church, you can only imagine that a Russian queen named Catherine financed this eye candy.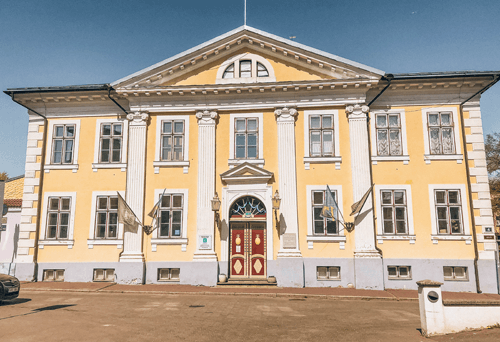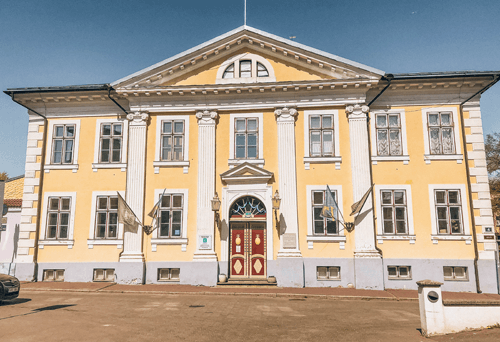 Pin
3. Pärnu Town Hall
P.R. Harder built the Town Hall in 1797. Rumor has it that Russian Czar Alexander I stayed here during a visit. The building received multiple add-ons in the 1900s and may have transformed into a house and later home to the city council.
Today, you will find the Visitor Center and offices. Stop for a peek at the neo-baroque, Art Nouveau-style detailing. The building is also home to the Pärnu City Gallery.
Learn more about the Pärnu Visitor Center.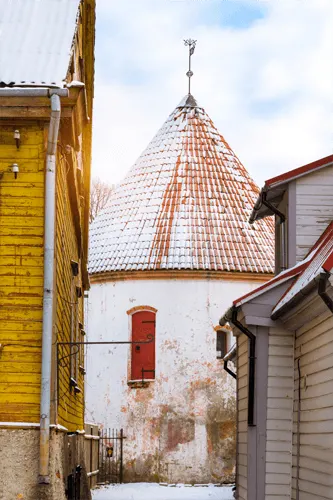 Pin
4. The Red Tower
The Red Tower, a former prison, is said to be the only restored fortification tower in Pärnu from the Middle Ages. Dated back to the 15th century, the Tower will prepare you for Old Town Tallinn's Viru Gates without all of the crowds.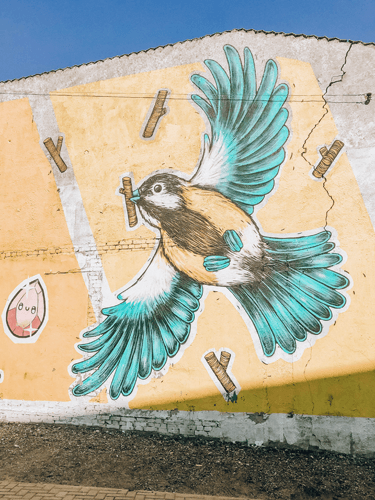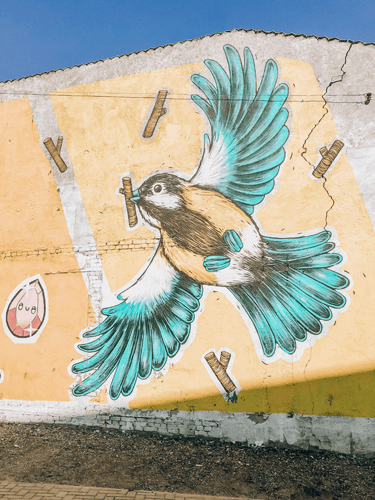 Pin
5. Pärnu Street Art And Murals
Stroll around the back alleys and parks of Pärnu to find hidden murals along walls and parking lots. I love the hip-hop feel mixed in with the beachy vibes. Young but also seemingly old, the city's juxtapositions give it character.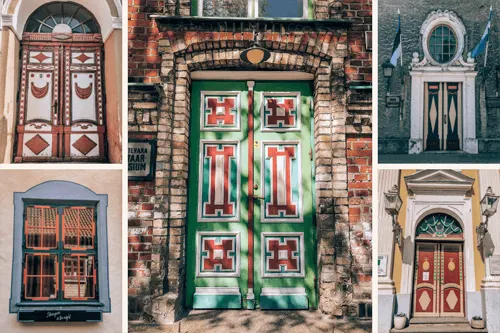 Pin
6. All Of Gorgeous Windows & Doors
While you are mural-strolling, don't miss all of the gorgeous windows and doors around Pärnu. I debated doing just a post in pictures of them because I couldn't stop clicking away. I am sure this is an Instagrammer's dream and my husband's nightmare.
Headed to Pärnu? Book your accommodations here:
7. Pärnu Museum
We tried twice to check out the Pärnu Museum, but we hit holidays and the wrong days, unfortunately. However, if the doors were open, we would have checked out the Pärnu Museum. A contemporary institution, we hoped to learn more about Baltic and Soviet history. Since we hadn't snuck into a lot of museums for our 7-day road trip, we figured this one would be a tad quieter, too.
Learn more about the Pärnu Museum.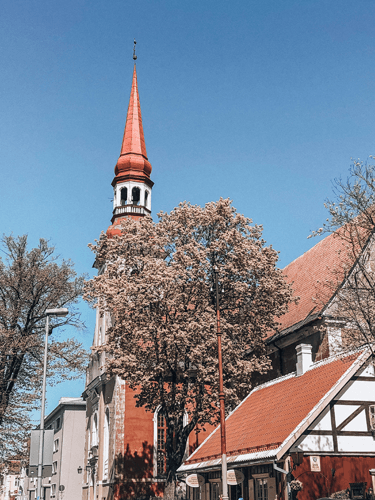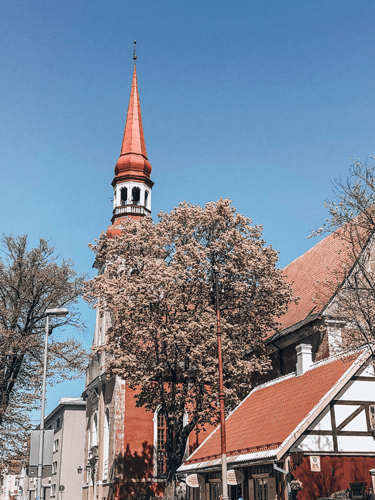 Pin
8. Stores & Stores For Shopping
I am not a huge shopping fan, but I love looking in the windows at wooden airplanes and fuzzy hats. Book and toy stores make me feel at home.
Pärnu's local shops won't disappoint. Spread amongst the cafes and bars, find a mix of tourist pleasure and local wares. Flower shops, kitschy Pärnu gear, and flowy dresses await you.
Where To Eat In Pärnu
Pärnu, Estonia is especially perfect for a lunch break and afternoon cocktail. I know that after driving around Lithuania, Latvia, and Estonia all week, I need to stretch my legs. Plus, I get hangry about 3-4 hours after breakfast. Pärnu offered delicious food and a refreshing and unique glimpse into Estonia.
We wandered around checking out menus and reading online reviews. My two favorite places for where to eat in Pärnu: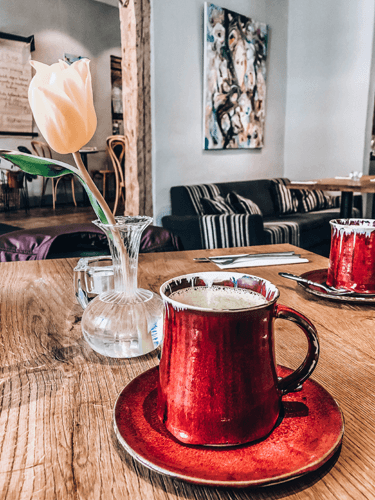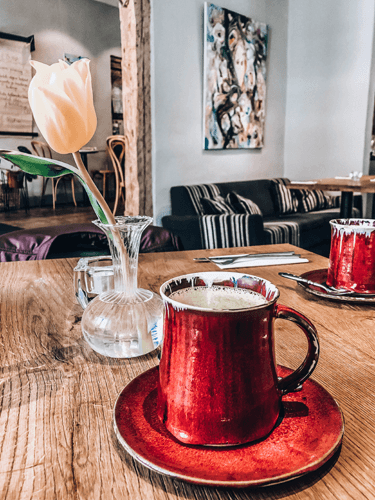 Pin
9. Mahedik
Mahedik serves an amazing breakfast/brunch with options for food intolerances, too. Of course, they serve all three meals throughout the day. Nothing beat my fresh salmon or steamy bowl of fruit-filled porridge.
Exhausted from driving, the coffee perked up my senses along with the cozy atmosphere. Staff members chatted with us about our holiday and their life dreams. We watched midmorning as friends met to catch up and digital nomads typed away on their screens. Sounds like a dream, right? I could have stayed in Pärnu, Estonia for the rest of my trip.
Learn more about Mahedik.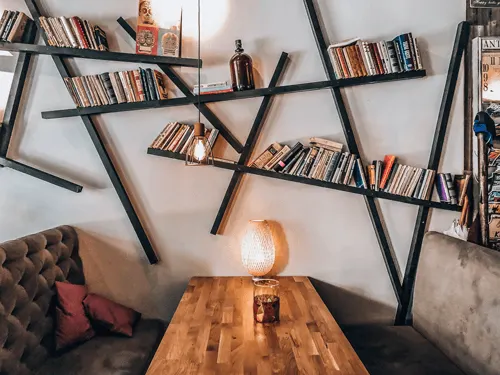 Pin
10. Mum Cafe
The Mum Cafe and its gorgeous slanted bookshelves beckoned to me from afar. I always think these bookish restaurants see me coming and whisper: Eat a massive burger next to my stacks. Totally normal, right? Plus, wine lined the walls. Deep down, we know that I am easy to please. You can also sit outside (but there are no bookshelves) and fall in love with the trendy pops of color.
Personally, I loved that everyone seemed to own a designer dog. They are family and one sat in a booth as such.
Learn more about the Mum Cafe in Pärnu, Estonia.
I should also note that ironically, these Pärnu restaurants are next to each other. Returning to the city for a second time, we kept meandering back to this alfresco dining nook near the town center. You can't go wrong with any of the nearby choices.
Also highly recommended but under construction at our time of visit, we've heard Lime Lounge is a gem for drinks and grub. We peeked in hoping they'd finish right then and there.
What To Do In
Pärnu
? Don't Miss
Pärnu's
Beach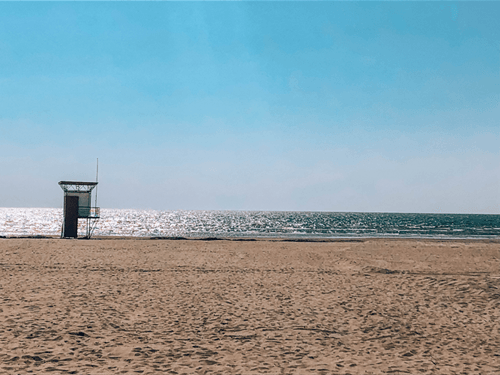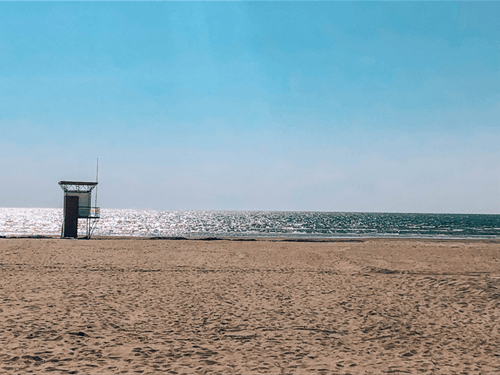 Pin
11. Pärnu Beach and Promenade
When I think of the Baltics, I definitely don't think about going to the beach. In fact, I had no idea that Pärnu championed Baltic beach town glory. Although we visited in the offseason, I felt my nostalgic New England home ocean vibes. We walked from downtown to the beach on a little walk and bike path lined with restaurants, pizza, and ice cream places.
We've been warned that in season, Pärnu Beach packs in sun-worshippers and partygoers.
The craziest part? Pärnu Beach is actually hidden until you pass the park and the water opens up to greet you. To the unsuspecting visitor, you'd have no idea that beach lays around the bend. OK, maybe the screeching seagulls in the corner of town give you some idea…or you just think that they are lost–like you.
And wait, did I just spy an elephant slide?
With water too cold for us, we walked the beach and took pictures of cute lifeguard towers. Find a promenade, seasonal resorts, and salty, fresh air.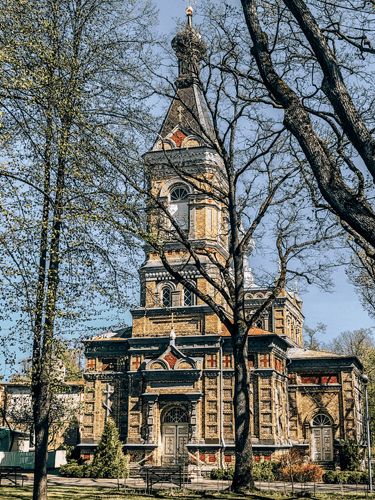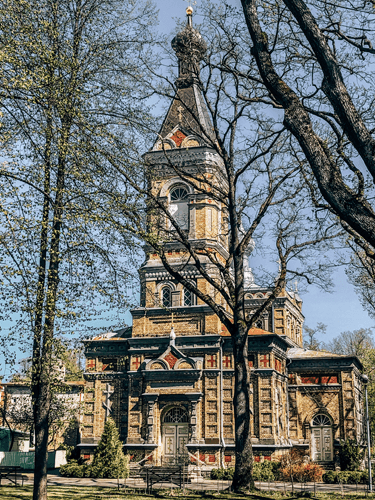 Pin
Which Of These Is Most Appealing To You?
Have you been to Estonia or the Baltics? Have you passed over Pärnu? Or, are you planning a stop?
As a travel blogger, I sometimes forget and jumble all that I did while road tripping around. However, Pärnu left an imprint in my mind and heart.
American expat and author, Justin Petrone ends one of his Estonian memoirs, Sketches from Estonia, reminiscing about Pärnu. Although he and his family decide not to settle there, he talks about part of his soul walking the beach and streets whenever he is lost. Poetic and true–and also usually drunk while there–Petrone must be onto something.
Don't miss Pärnu on your next Baltic trip.
Save This Post For Your Baltic Trip Planning: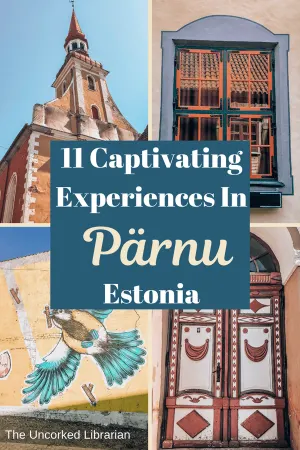 Pin
Baltic Posts You May Also Enjoy:
One-Week Baltics Itinerary
The National Library of Latvia
Discover the Baltics for Book Lovers
Books To Read Before Visiting The Baltics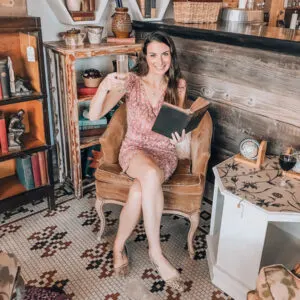 Christine (she/her) is the owner, lead editor, and tipsy book sommelier of The Uncorked Librarian LLC, an online literary publication showcasing books and movies to inspire travel and home to the famed Uncorked Reading Challenge.
With a BA in English & History from Smith College, an MLIS from USF-Tampa, and a U.S. Fulbright Fellowship in Christine's back pocket, there isn't a bookstore, library, or winery that can hide from her. Christine loves brewery yoga, adopting all of the kitties, and a glass of oaked Chardonnay. Charcuterie is her favorite food group.