Head to New York City and upstate New York in Ask Again, Yes by Mary Beth Keane. Discover book information, a summary, book reviews, and book lists featuring this contemporary family fiction and coming of age masterpiece.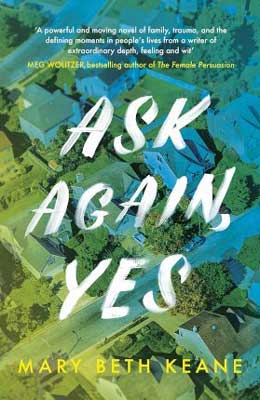 This post may contain affiliate links: If you purchase through my link, I will receive a small commission at no additional cost to you. I only recommend products/services that I approve of. See my full Disclosure Policy.
Author: Mary Beth Keane
Genre: Coming Of Age | Book Set In NY | Family Fiction | British & Irish Literary Fiction
Pages: 401
Publisher: Scribner
Publication Date: May 2019
Buy Now: Amazon
Also in Book Of The Month
Find more amazing books here:
1. We get the month's hottest new and upcoming titles from Book of the Month.
2. Try Audible Plus.
3. Find books via Kindle Unlimited Membership Plans.
4. As a member of Amazon Prime, don't miss Amazon First Reads — early access to Kindle books.
Ask Again, Yes by Mary Beth Keane Summary
Francis Gleeson and Brian Stanhope, rookie NYPD cops, are neighbors in the suburbs. What happens behind closed doors in both houses—the loneliness of Francis's wife, Lena, and the instability of Brian's wife, Anne, sets the stage for the explosive events to come.

In Mary Beth Keane's extraordinary novel, a lifelong friendship and love blossoms between Kate Gleeson and Peter Stanhope, born six months apart. One shocking night their loyalties are divided, and their bond will be tested again and again over the next thirty years. Heartbreaking and redemptive, Ask Again, Yes is a gorgeous and generous portrait of the daily intimacies of marriage and the power of forgiveness.

Scribner
Join The Uncorked Reading Challenge Today
---
Travel around the world with a book a month as part of our Uncorked Reading Challenge. Never be late to the party again with the best new book releases. Get book recs straight to your inbox. Sign Up Now.
About The Author, Mary Beth Keane
Mary Beth Keane is a New York Times bestselling author. She attended Barnard College and the University of Virginia from which she earned an MFA. Keane was also a John S. Guggenheim fellow for her fiction writing. Read more about her here.
More Books From Mary Beth Keane
TUL Book Lists Featuring Ask Again, Yes With Book Reviews
If you loved Ask Again, Yes by Mary Beth Keane, don't miss this reading list filled with books that will make you think. Find your next book club book or best read of the year. Other powerful friendship books on this list include Stargirl, The Book Thief, and In Five Years.
We love reading books set in New York City and State. Uncover our favorites on this reading list.
Do you love reading books set in NY along with the other 50 states? Find some of the best books set in every state on this fun and diverse America reading list.
Find our complete review for Ask Again, Yes on our June 2020 mini-book reviews reading list.