16 Bookish & Boozy Activities In Clarksville, TN
Are you looking for bookish and boozy activities in Clarksville, TN? Find eclectic bars, breweries, bookstores, and things to do for the best Clarksville day trip or weekend overnight.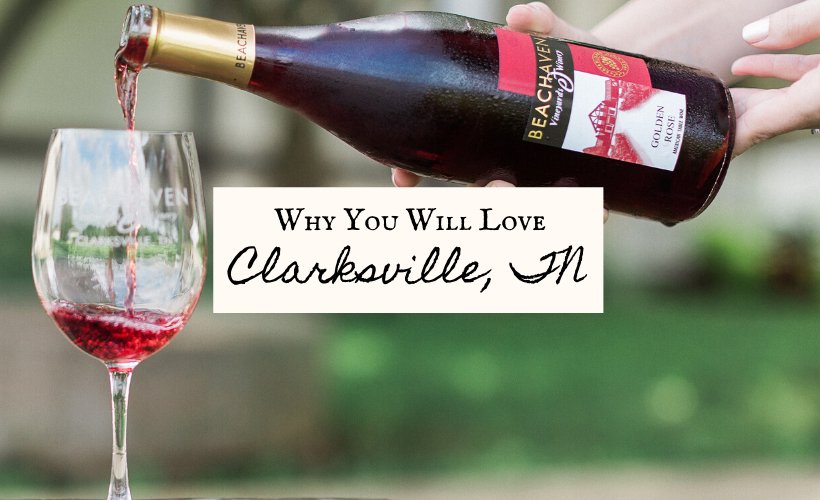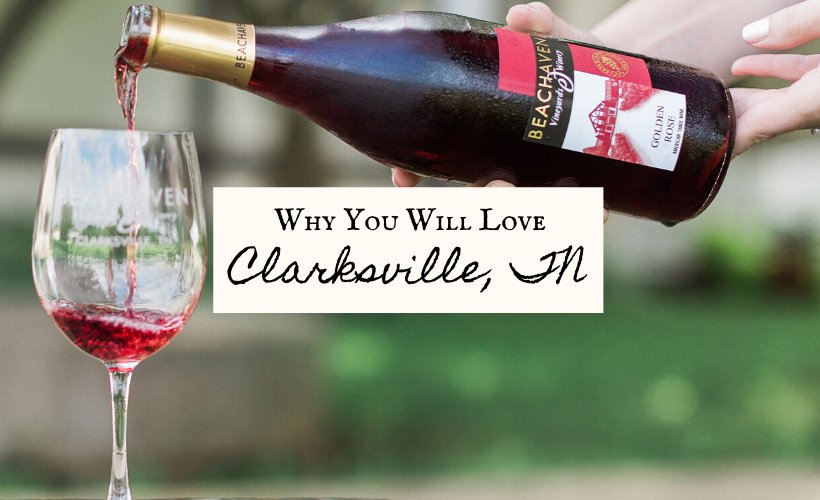 ---
The Uncorked Librarian would personally like to thank Visit Clarksville for inviting us out to tour and enjoy Clarksville, Tennessee. While this is an all-expenses-paid and sponsored press trip, all opinions are my own and unbiased. We are so grateful for this opportunity. Thank you for inviting us to your home.
---
The Heart In Clarksville, Tennessee
Sometimes the perks of being a travel blogger are not just the compensated hotel stays and meals. In fact, this is not remotely why I am a traveler and writer. I built TUL based on community and the desire to share people's stories. Clarksville, Tennessee ended up being the epitome of this storytelling.
I'm not sure that I would have ever made it out past Nashville without the invitation from Visit Clarksville inticing me to write about bookish and boozy things to do in Clarksville, TN. Come and order flights at our 6 breweries. Take a tour of the local distillery. Don't forget winetasting at Beachaven.
Do you think I needed time to consider this offer?
And then the conversation progressed: Meet our local author who runs a publishing company, peruse the stacks of our tiny bookstore, and sip butterbeer at our fantastical cafe.
While there are endless activities in Clarksville, TN, what touched me the most was the endless heart and pride in the city. Is Clarksville a huge tourist destination? Unlikely. Is it for everyone? Debatable.
Is Clarksville, Tennessee a large city with a small-town feel? Is it worthy of your time? Does Clarksville have a story to tell and a way to enhance your life?
You bet your uncorked butt that Clarksville will snuggle your soul in earthy wine, endless art, inspiring conversation, and beer. So. Much. Beer.
What should you do when you visit Clarksville to enjoy the city like my husband and I did, especially as a literary and tipsy traveler?
Clarksville, TN Attractions You Don't Want To Miss
Wine tasting at Beachaven Winery
Sipping beer and enjoying live music at a local brewery
Touring Old Glory Distilling Co.
Perusing the stacks of Hudubam Booktraders
Getting your HP on with a butterbeer at Ravenwood Cafe
Checking out the exhibits at the Customs House
Watching a play at the Roxy Regional Theatre
Taking a picture in front of the Children's Fountain
Walking or yoga stretching at Dunbar Cave State Park
Spying the urban art and murals
Shopping at the local, small businesses
Touring the Smith Trahern Mansion
Walking along the RiverWalk
Grabbing a delicious cup of local coffee
Finding a bite to eat
Stopping to chat with the locals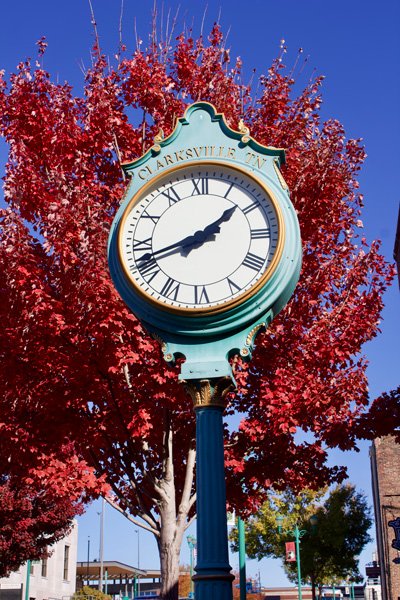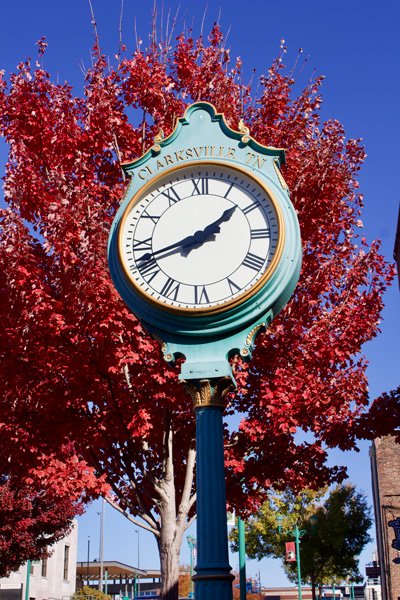 Wait, where is Clarksville, TN? How far is Clarksville from Nashville? Knoxville? Asheville?
Living in Asheville, North Carolina, Clarksville makes for the perfect long weekend trip. Nonstop, the drive from Asheville to Clarksville is about 5.5 hours mostly down I-40. After passing through the majestic and winding Smoky Mountains, we drove through both the cities of Knoxville and Nashville.
From Knoxville, Clarksville is about 3.5 hours and then Nashville to Clarksville is a little under one hour. Either city is perfect for a leg-stretching lunch or coffee break. You can book a short Nashville tour here. Knoxville also offers quick detour fun as well.
The drive is fun with so much to see. But…
A Small Heads Up To The Weary Driver
I'm not going to lie, Tennessee needs some serious wildlife barriers. I jokingly–to keep my sanity–told Tom that we needed to start a drinking game for the devastating road kills. Deer. DRINK. Really, it was heartbreaking.
Not to mention that through the Smoky's, they section off the road for "accident investigations." After a little research, this is so cops can pull mangled vehicles off of the road to safely investigate.
Also, know that trucks have a different speed than cars.
With that said, though, we caught a gorgeous pink and purple sunset with a high moon through the Smoky's coming home. Add in the foliage in the fall, and the drive sparkles.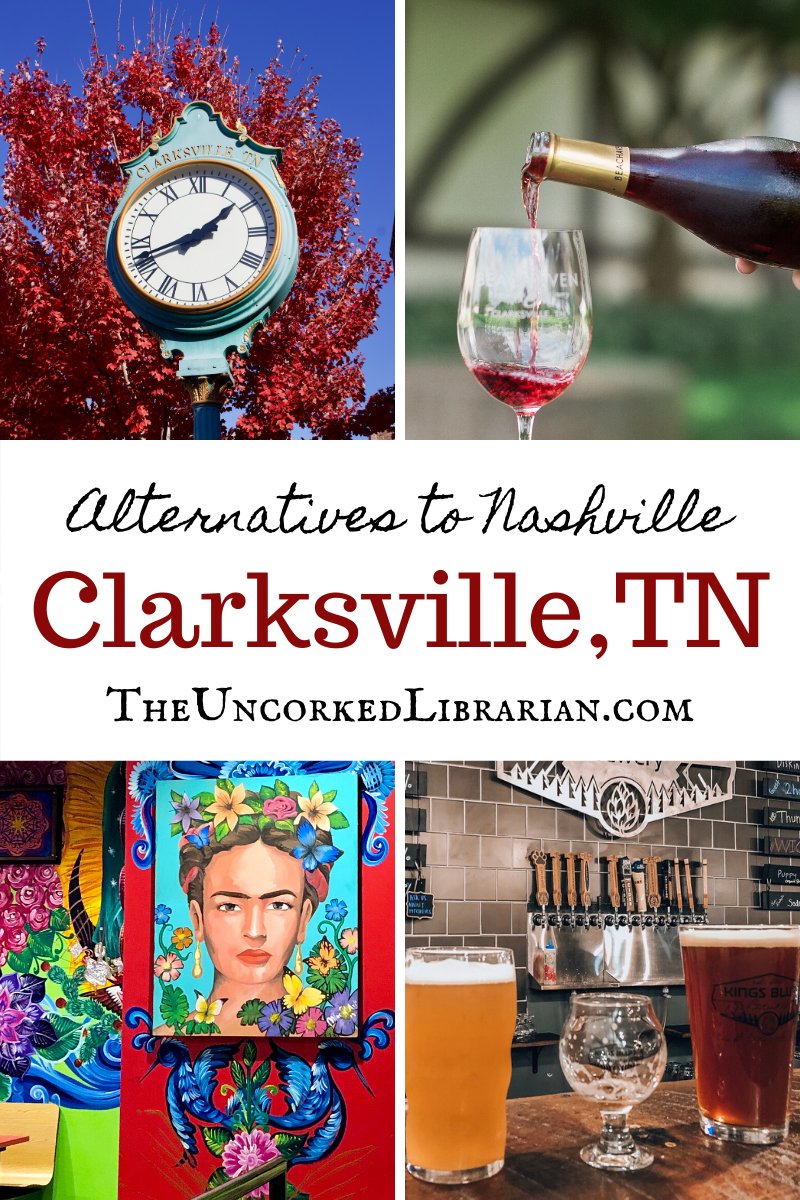 Clarksville, Tennessee Today
So why would anyone visit Clarksville with three major tourist cities in its midst? What activities and attractions could Clarksville possibly offer in comparison?
While Clarksville may be hiding in the shadows of its glitzy neighbors, the 5th largest city in Tennessee offers something different. Mind you, not everyone will love Clarksville. Flat plains of factories and congestion on the main roads is for real.
However, you and I both know that first impressions or the surface are whack. Clarksville is brimming with culture, a trendy downtown, a theater, gatherings for creative writing, and heartwarming pride in its military base. History sits ensconced between a rainbow street mural, a craft brewery, and every chain known to mankind.
I freaking love it. GO TO CLARKSVILLE.
Clarksville is also home to Fort Campbell–technically on the border of Kentucky–home to the 'Screaming Eagles,' of the 101st Airborne Division. Many of the breweries, shops, and the distillery honor their veterans, first and foremost.
Austin Peay, which has a creative writing program, also greets visitors entering the downtown area. Go, Govs!
Sound like an intriguing mix? This is my favorite kind of travel.
Where Should You Stay In Clarksville?
We stayed near Beachaeven Vineyards and Winery as well as Old Glory Distilling Co. and Star Spangled Brewing, right off of the highway as you enter Clarksville. A few hotels you may want to check out include:
Hilton Garden Inn
Best Western Plus Atrium Inn & Suites
Days Inn By Wyndham
Find a giant list of Clarksville accommodations here.
Boozy Things To Do In Clarksville, TN
If you are ready to try out Tennessee and are looking for something different with a whole lot of heart, below are a few of the tipsy travels awaiting you. Here are my favorite boozy activities in Clarksville, TN: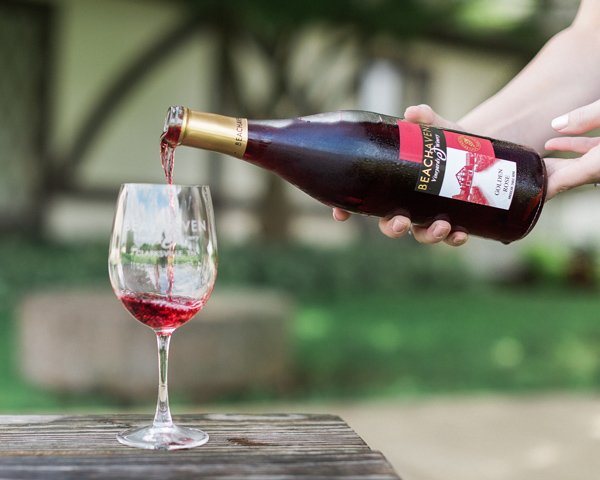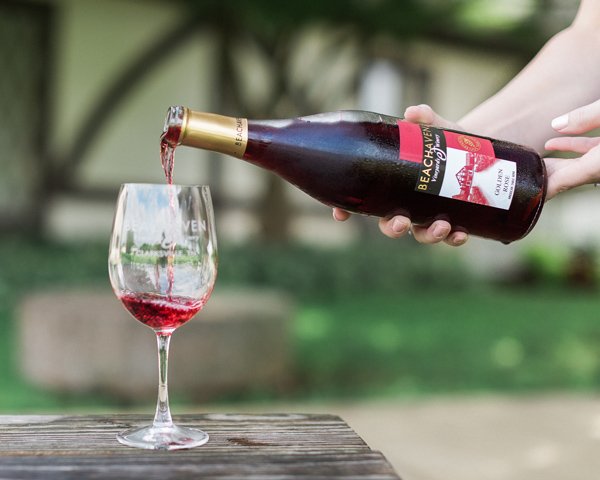 Wine tasting at Beachaven Vineyards & Winery
Beachaven Winery is actually how I ended up in Clarksville. Someone tweeted their beautiful wine selection with me tagged, and the next thing I know, BAM, I am there drinking that very same wine.
The oldest single-family owned winery in TN, Beachaven is best known for its award-winning wines. What I particularly love the most is that they sprouted up in the Bible Belt and a commercial winery, even in the 80's, represented a novel idea.
If you are looking for things to do in Clarksville, I recommend taking a tour and wine tasting.
I arrived on a magical day as staff members bottled their seasonal Cranberry wine. Yes, I got a sneak peek and taste–delicious!
For wine lovers, Beachaven has it all: dry reds and whites, semi-drys, and sweeter fruit wines. My favorites included the Chambourcin and Syrah. Heavenly Peach stayed true to its namesake.
Oh, and they currently have a level 1 sommelier on staff, Claire (as of 2019). Check out the gorgeously etched wine barrels too. One of their winemakers was just back from down under.
Want to wine taste or take a tour? Learn more about Beachaven Vineyards and Winery. Beachaven Winery is located at 1100 Dunlop Road in Clarksville, TN.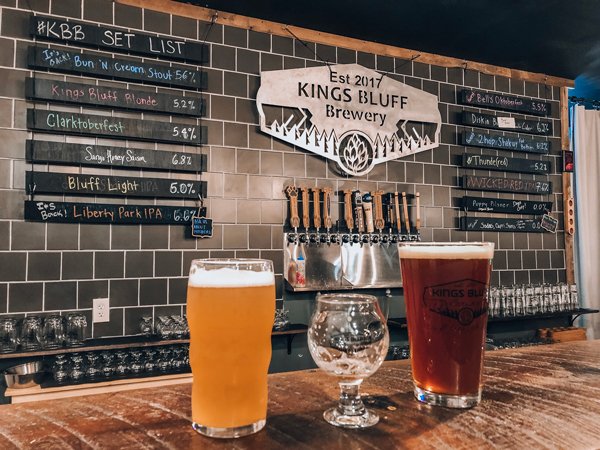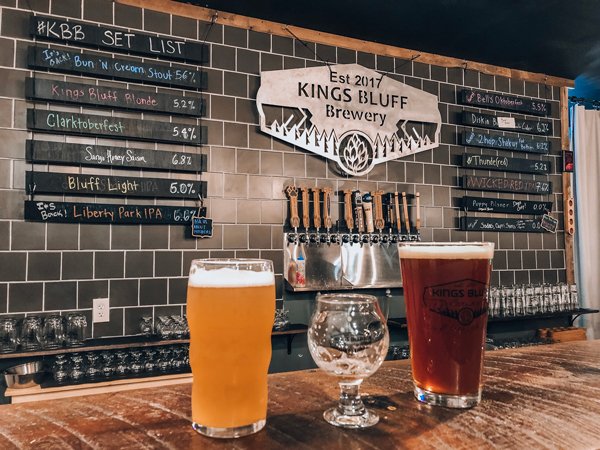 Sipping a beer over live music at a local brewery
I have to say that the number one (through six, really) Clarksville, TN attractions include their breweries. Yes, I live in Asheville where craft breweries outnumber Dukin' Donuts on every corner…
The Clarksville breweries offer live music, local brews, and friendly locals. Some are manned by the actual owners while others are larger in size and location. Find the breweries in Clarksville, TN spread out across the city and not just in the historic downtown area.
If you are visiting Clarksville, don't miss these breweries:
Evill Nash Brewing
Kings Bluff Brewing Company
Blackhorse Pub and Brewery
Tennessee Valley Brewing Company
Strawberry Alley Ale Works
Star Spangled Brewing Company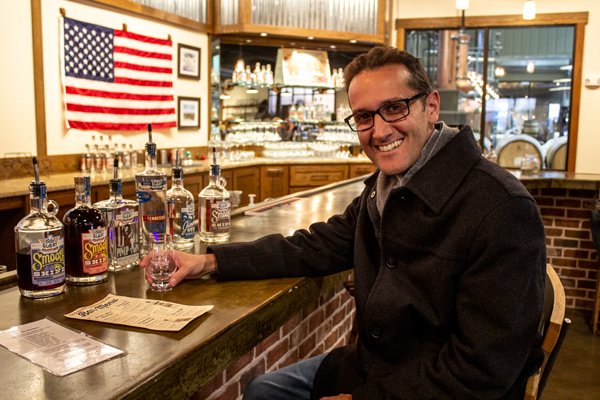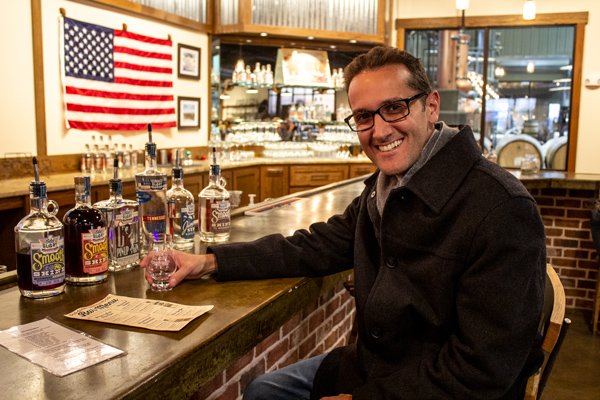 Touring Old Glory Distilling Co.
With a short weekend in Clarksville, you might not be able to do all of the boozy things. However, try not to miss touring Old Glory Distilling Co. Old Glory is Clarksville's small-batch, artisan distillery. Find rum, gin, vodka, whiskey, moonshine, and now bourbon.
Run by two local Clarksville brothers, not only can you get married here, but you can tour behind the scenes and taste at the cocktail bar. Order a seasonal cocktail, for me, please.
We arrived in perfect timing as they had just cracked open their very first aged bourbon barrel, ever. Like most of the breweries, with the exception of Blackhorse, all of these boozy Clarksville destinations are rather new.
My favorite throat-burner: the gin, straight-up. Momma don't play. Old Glory Distilling's gin is full of juniper berries and botanicals such as elderflower, orange and lemon peels, and Orris root (the state flower).
Want to try a boozy libation or take a tour of the distillery? Learn more about Old Glory Distilling Co. Find Old Glory at 451 Alfred Thun Road, Clarksville, Tennessee.
Bookish Activities In Clarksville, TN
Even The Uncorked Librarian can get boozed out. Yup, I said it. By the end of my weekend, I gained a beer belly and couldn't order a half pour. Well, that's extreme… Not that endless craft beer is a bad thing…
But I didn't just head to Tennessee to drink. Well… Visit Clarksville promised that I'd find multiple literary and bookish activities in Clarksville, TN. Clarksville is LIT with its book-themed cafes, amazing hodgepodge bookstore, and large local author population.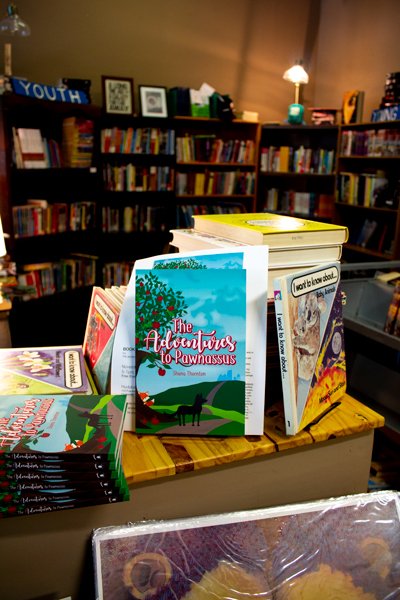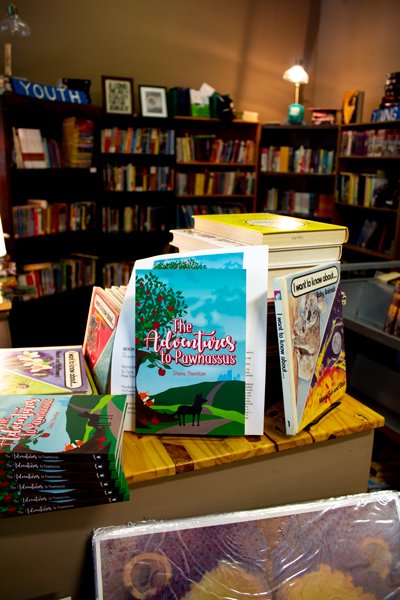 Perusing the stacks of Hudubam Booktraders
Do you love used and new bookstores? Ones that look like books just landed wherever but have also always been there? Where you know stacks are beautifully organized chaos? Those are MY FAVORITE bookstores.
Head to Hudubam Booktraders. Not only will you find new and used books, but they have a display for their local authors. Austin Peay produces quite a few, and you'll find a large local selection of young adult books among them.
Hudubam is also all about the community and is a place where vets meet, authors gather to work together, you can sit and write for NaNoWriMo, and poets can attend an Open Mic Night.
Looking for local books and books set in TN? Check out this TN reading list.
Check hours and find the latest meet-up or Open Mic Night event on Hudubam's FB page. Hudubam's address is 111 Franklin St.
Getting your HP on with a butterbeer at Ravenwood Cafe
You won't be able to miss Ravenwood Coffee & Creations with a giant inflatable dragon on the roof. Located on a busy stretch into town, and currently, next to a CBD oil dispensary, this is truly the summation of Clarksville.
Although the cafe is not necessarily 100% Harry Potter-themed, the cafe does offer butterbeer as an homage to the owner's love for Harry Potter World at Universal Studios in Florida.
And yes, they have lactose-free options for their butterbeer. If you are exhausted from the plethora of Clarksville, TN attractions, grab a magical flavored bevie at Ravenwood.
We packed every hour for this trip with must activities in Clarksville, TN, not wanting to miss a thing. Below are two more literary things to do in Clarksville that we checked out but did not have time to enjoy. I had to include these sites since I know they are big attractions in Clarksville and so many residents recommended them. Here's my little Clarksville bucket list:
Checking out the exhibits at the Customs House
The Custom's House Museum and Cultural Center is Tennessee's second-largest museum. Visitors can learn about history, science, and art through permanent and temporary exhibits.
Although I did not have time to drop-in on this visit, multiple tour guides, residents, and authors told us to check out their displays, especially to gain a better literary understanding of TN.
Add this one to my to-do list when we come back to Clarksville. I'm equally intrigued by the bubble cave.
See what is on display this month at the Customs House Museum and Cultural Center. Address: 200 S 2nd St, Clarksville, TN.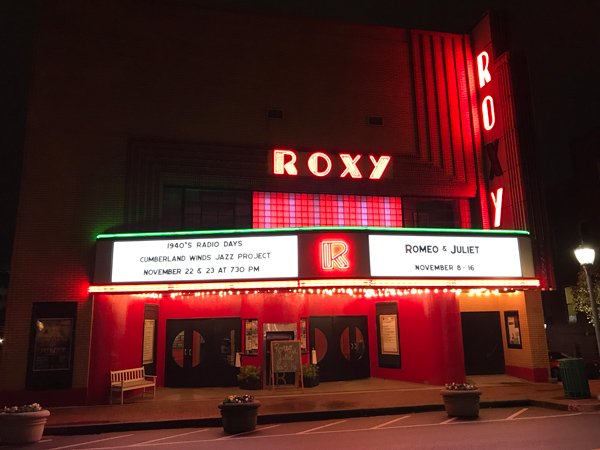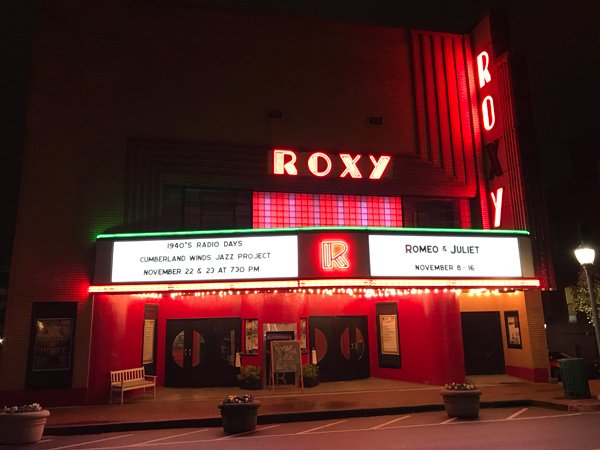 Watching a play at the Roxy Regional Theatre
Gahhhh, this literary-lover so very badly wanted to see Romeo and Juliet at the Roxy. One of our volunteer guides personally invited us and told us that you will catch a few Broadway actors.
The Roxy hosts film series, runs your typical theater productions, and also performs more indie shows.
Check out their next performance at the Roxy Regional Theatre. You cannot miss the Roxy from the street view at 100 Franklin St, Clarksville, TN.
Taking a picture in front of the Children's Fountain
When you are headed down Strawberry Alley, don't miss the Children's Fountain across from the Clarksville, TN clock.
Sitting on top of the fountain, find a child reading a book and donning a graduation cap. If you count correctly, there are 18 children around the piece, riding bikes and scooters and just being children.
While there is no literary-merit per se, the optimistic piece represents travel, education, reading, and the future.
---
---
Scenic, Fun & Nerdy Clarksville, TN Attractions
While The Uncorked Librarian focuses on bookish and boozy travel, below find a few other popular scenic places in Clarksville as well as Clarksville, TN activities for those who love to be outside, in a studio, or want to do some local shopping.
Walking or yoga stretching at Dunbar Cave State Park
If you are looking for history and more outdoorsy things to do in Clarksville, Tennessee, head to Dunbar Cave.
This cave is a prehistoric site with Mississippian Native American cave art. Visitors can take tours, hike, find the occasional yoga meet-up, and watch for birds. We had coffee with Shana Thornton, local author and yoga teacher, for the cave. She's FANTASTIC.
Learn more about Dunbar Cave State Park located at 401 Old Dunbar Cave Rd, Clarksville, TN.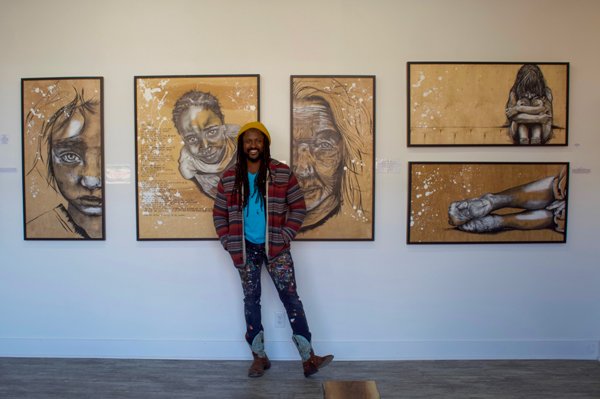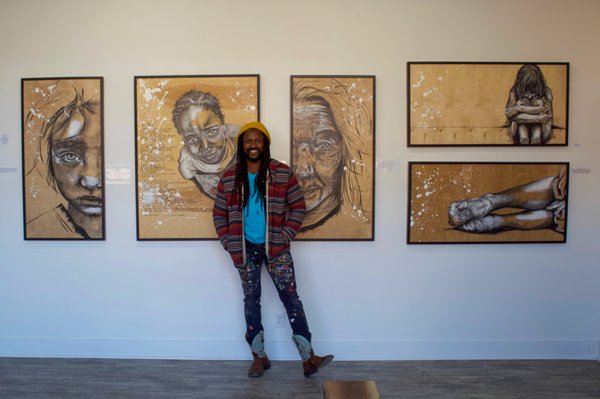 Spying the urban art and murals
I refuse to be a rule-breaker for the Gram or the blog. It's just not my thing. However, when I saw a street mural behind a makeshift fence, I wanted a picture. A man walking down the street overheard, and slid the fence just enough for me to get a clear shot. I promise it wasn't a big deal…
Come to find out, that man was Olasubomi, or 'Ola,' the artist. Did I mention that we had really amazing luck on this Clarksville trip?
Along with a rainbow hand and dripping bricks, Ola created Starry Night Clarksville, a mural that I now own a gorgeous picture of but never saw in person. Take a picture for me. Guys, it was unseasonably cold.
Ola also owns a studio against the hand's wall, Drafts by Olasubomi, and teaches art in Nashville. Originally born in Nigeria and raised in Oklahoma, Ola lives in Nashville with this second studio in Clarksville.
Pictured above are the stories in the forms of poems from homeless children that Ola talked with. I picture him to be the Humans of New York photographer, Brandon Stanton, but with a canvas.
See more of Olasubomi's work here. You can find his Clarksville Studio and 'hand' mural on 106 N 2nd St Suite 103, Clarksville, TN.
Shopping at the local, small businesses
Downtown Clarksville has endless shops, cafes, and restaurants. Although spanning only a few streets in the more historic area, the town is walkable and quite photogenic. You can find more stores and shops within driving distance as well.
A few places to shop at in Clarksville include:
Miss Lucille's Marketplace
Journey's Eye Studio
Hudubam Booktraders
Downtown Artists Co-Op Gallery
Mildred and Mable's
And Vinyl
Bring some loose change or a credit card for metered street parking.
Visit Clarksville has a complete list of Clarksville stores here.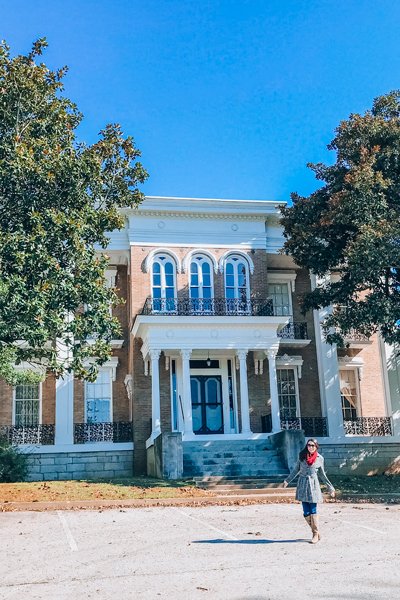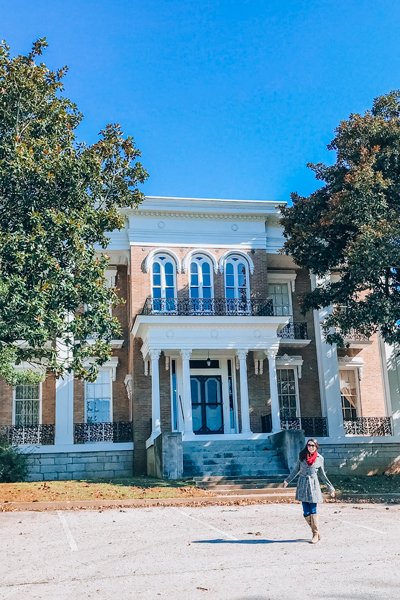 Touring the Smith Trahern Mansion
The Smith Trahern is not a Newport Mansion but is definitely worth a quick 45-minute visit if you are looking for historic Clarksville attractions. Run mostly by volunteers, we took an informative tour to learn about the history as well as the present use of the house.
Adolphus Heiman designed the Smith Trahern Mansion for a wealthy tobacco man, Christopher Smith. Built before the Civil War, the mansion sits high on the hill with beautiful views of the river.
While much of its original features and furniture did not survive, the home still allows you to steal a glance into history. There is a widow's walk, and I learned about "coffin corners" on the staircases for when people showed their respect at home.
Today, the mansion is home to community meetings including knitting and women's clubs. In the winter, the mansion hosts a tree festival. Anyone can rent the facility for events ranging from a Thanksgiving dinner to weddings.
Tour the Smith Trahern Mansion. The Smith Trahern Mansion is located at 1st and McCure St. in Clarksville.
Walking along the RiverWalk
Speaking of the river, if you are looking for some fresh air and something free and scenic to do in Clarksville, head to the Cumberland RiverWalk. Follow the 1.5 miles of paved walkway beside the Cumberland River.
You can pick up the walk at McGregor Park located at 640 N. Riverside Drive.
Grabbing a delicious cup of local coffee
Just like Clarksville is loaded with breweries, you can bet that all of these artists and writers need a pick-me-up. My favorite coffee in Clarksville happened to be at the newly re-opened and relocated deli, Yada Deli (locals also say Yada Yada…).
You may also want to check out Plumb Line Coffee or the aforementioned Ravenwood or The Looking Glass Restaurant.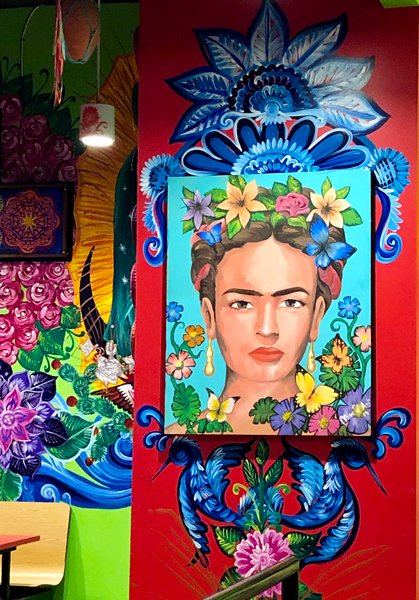 Finding a bite to eat
Are you hungry? Unlikely if you are jacked up on coffee, beer, and endlessly amazing cocktails. However, you need something to soak up that booze, even if you are just wandering back to your nearby hotel.
One of our favorite places to eat in Clarksville for our weekend trip…drum roll, please…was West Coast Taco. Yea, yea. It's a small franchise with three other locations. But IT'S TACOS. And damn good ones. I had so much leftover, I ate my burrito bowl in bed the next AM. And c'mon, beer and TACOS.
West Coast Taco is located at 1725 Wilma Rudolph Blvd E, Clarksville, TN. You can find them on Facebook.
Other places to eat in Clarksville, TN:
Strawberry Alley Ale Works
Sunshine Restaurant
Blackhorse Pub and Brewery
Stopping to chat with the locals
Most importantly when you are in Clarksville, you have to stop to chat with the locals. I cannot tell you how many places we visited where people just started the most randomly interesting conversations. Plus, if you are lucky, you might run into some of the chatty owners, brewers, artists, and writers.
Everyone has a story to tell and love for Clarksville, TN. I don't think you've fully visited Clarksville until you yapped away with everyone like they were your new best friend. We found ourselves constantly invited to plays and art walks and into closed doors, studios, and shops.
Are You Ready To Plan Your Clarksville, TN Itinerary?
The one place we did not visit on our itinerary was Fort Defiance Civil War Park and Interpretive Center located at 120 Duncan Street. We just ran out of time, and the beer belly slowed me down. Next time…
Proudly, we came to Clarksville and conquered the booze! Well, minus the bars… We never could have imagined how many activities in Clarksville, TN were available for us to do, especially with regards to drinking and literary places.
Are you thinking of visiting Clarksville now? What attractions stand out to you the most? Have you been to or through Clarksville before?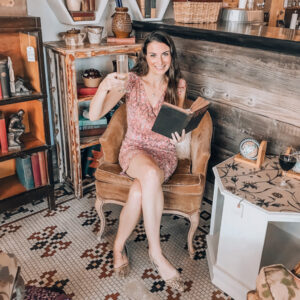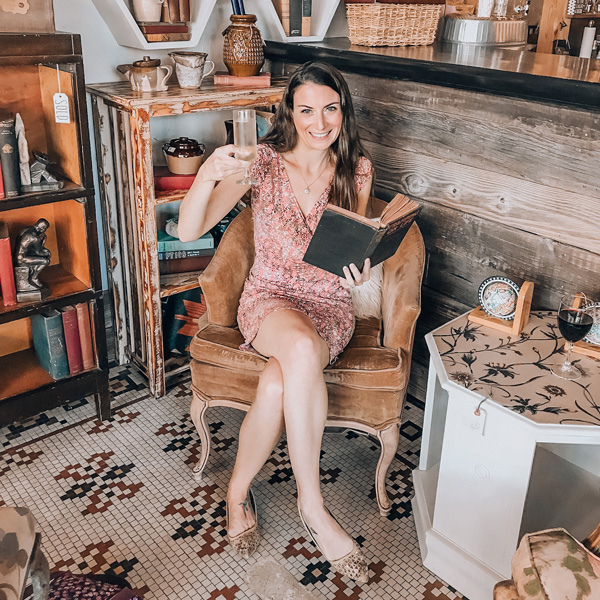 Christine (she/her) is the owner, lead editor, and tipsy book sommelier of The Uncorked Librarian LLC, an online literary publication showcasing books and movies to inspire travel and home to the famed Uncorked Reading Challenge.
With a BA in English & History from Smith College, an MLIS from USF-Tampa, and a U.S. Fulbright Fellowship in Christine's back pocket, there isn't a bookstore, library, or winery that can hide from her. Christine loves brewery yoga, adopting all of the kitties, and a glass of oaked Chardonnay. Charcuterie is her favorite food group.