Head to England in A Great And Terrible Beauty by Libba Bray. If you enjoy books with witches, don't miss A Great And Terrible Beauty book summary, reviews, and book information here.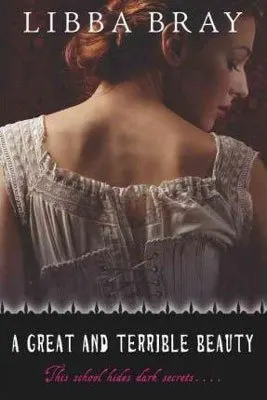 This post may contain affiliate links: If you purchase through my link, I will receive a small commission at no additional cost to you. I only recommend products/services that I approve of. See my full Disclosure Policy.
Author: Libba Bray
Series: The Gemma Doyle Trilogy
Genre: Young Adult | Historical Fiction | European Historical Fiction
Pages: 416
Publisher: Delacorte Books For Young Readers | Penguin Random House
Publication Date: 2003
Buy On Amazon
Grab even more great books here:
A Great And Terrible Beauty by Libba Bray Summary
"Gemma Doyle, sixteen and proud, must leave the warmth of her childhood home in India for the rigid Spence Academy, a cold finishing school outside of London, followed by a stranger who bears puzzling warnings. Using her sharp tongue and agile mind, she navigates the stormy seas of friendship with high-born daughters and her roommate, a plain scholarship case. As Gemma discovers that her mother's death may have an otherworldly cause, and that she herself may have innate powers, Gemma is forced to face her own frightening, yet exciting destiny . . . if only she can believe in it."

Penguin Random House
Join The Uncorked Reading Challenge Today
---
Travel around the world with the Uncorked Reading Challenge. Get the best book and movie recs straight to your inbox. Sign Up Now.
About The Author, Libba Bray:
Libba Bray is a New York Times bestselling author and one of my favorites. She is quirky and unique plus an advocate for libraries. Bray has won a variety of awards including the infamous Michael L. Printz Award for Going Bovine. Born in Alabama and spending much of her childhood in the south, she now resides in NYC with her literary agent husband. Read more about Libba Bray here.
Where You Can Find A Great And Terrible Beauty Reviews On TUL
Are you looking for dark academia books like A Great and Terrible Beauty? Explore our reading list filled with darker books that take place at universities, colleges, and boarding schools.
Are you craving more historical fiction and witchy YA recommendations? Check out TUL's favorite adult and YA books with witches.
Don't miss these books set in and across Europe to inspire your travels and spark wanderlust. Explore books and book lists set in countries like France, Scotland, England, Ireland, Lithuania, Greece, Czech Republic, Germany, Latvia, Switzerland, Estonia, and so many more.