One of my favorite books of 2020, don't miss A Good Neighborhood by Therese Anne Fowler. Set in North Carolina, witness a heartbreaking and gripping story about racism. Find A Good Neighborhood summary, book information, and book reviews here.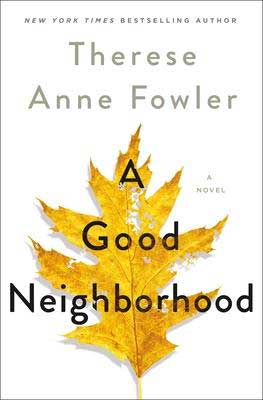 This post may contain affiliate links: If you purchase through my link, I will receive a small commission at no additional cost to you. I only recommend products/services that I approve of. See my full Disclosure Policy.
Author: Therese Anne Fowler
Genre: Book About Racism | Book Set In North Carolina | Family Fiction
Pages: 320
Publisher: St. Martin's Press
Publication Date: March 10, 2020
Buy On Amazon
Get On Book Of The Month
Grab books like A Good Neighborhood by Therese Anne Fowler for free or discounted here:

1. We get the month's hottest new and upcoming titles from Book of the Month.
2. Try Audible and Get Two Free Audiobooks.
3. Find many of these books for free with these Kindle Unlimited Membership Plans.
A Good Neighborhood by Therese Anne Fowler Summary
In Oak Knoll, a verdant, tight-knit North Carolina neighborhood, professor of forestry and ecology Valerie Alston-Holt is raising her bright and talented biracial son, Xavier, who's headed to college in the fall. All is well until the Whitmans―a family with new money and a secretly troubled teenage daughter―raze the house and trees next door to build themselves a showplace.

With little in common except a property line, these two families quickly find themselves at odds: first, over an historic oak tree in Valerie's yard, and soon after, the blossoming romance between their two teenagers.

A Good Neighborhood asks big questions about life in America today―what does it mean to be a good neighbor? How do we live alongside each other when we don't see eye to eye?―as it explores the effects of class, race, and heartrending love in a story that's as provocative as it is powerful.

St. Martin's Press
---
---
More About The Author, Therese Anne Fowler
Therese Anne Fowler is a New York Times bestselling author. She has a BA in sociology and cultural anthropology as well as an MFA in creative writing from North Carolina State University. She and her husband currently live in North Carolina. Read more about Therese Anne Fowler here.
More Books By Therese Anne Fowler
Where You Can Find A Good Neighborhood by Therese Anne Fowler
Don't miss some of the hottest new books that released in spring 2020, including A Good Neighborhood by Therese Anne Fowler. Find even more riveting titles such as Anna K., Darling Rose Gold, Code Name Helene, Pretty Things, and Lies That Bind.
Currently Reading October 2020
See what books we've read in October 2020, including A Good Neighborhood by Therese Anne Fowler. Coming soon…