Looking for witchy books like A Discovery of Witches by Deborah Harkness? Find A Discovery of Witches summary, reviews, and book information here.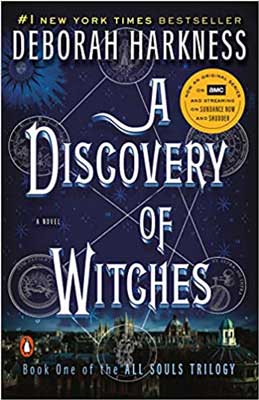 This post may contain affiliate links: If you purchase through my link, I will receive a small commission at no additional cost to you. I only recommend products/services that I approve of. See my full Disclosure Policy.
Author: Deborah Harkness
Series: All Souls Trilogy
Genre: Occult | Thriller | Romance
Pages: 752
Publisher: Penguin Random House
Publication Date: 2011
Buy it on Amazon
Find more great books like A Discovery Of Witches here:
1. We get the month's hottest new and upcoming titles from Book of the Month.
2. Try Audible Plus.
3. Find books via Kindle Unlimited Membership Plans.
4. As a member of Amazon Prime, don't miss Amazon First Reads — early access to Kindle books.
A Discovery Of Witches By Deborah Harkness Summary
"Deborah Harkness's sparkling debut, A Discovery of Witches, has brought her into the spotlight and galvanized fans around the world. In this tale of passion and obsession, Diana Bishop, a young scholar and a descendant of witches, discovers a long-lost and enchanted alchemical manuscript, Ashmole 782, deep in Oxford's Bodleian Library. Its reappearance summons a fantastical underworld, which she navigates with her leading man, vampire geneticist Matthew Clairmont.

Harkness has created a universe to rival those of Anne Rice, Diana Gabaldon, and Elizabeth Kostova, and she adds a scholar's depth to this riveting tale of magic and suspense. The story continues in book two, Shadow of Night, and concludes with The Book of Life."

Penguin Random House
Join The Uncorked Reading Challenge Today
---
Travel around the world with a book a month as part of our Uncorked Reading Challenge. Never be late to the party again with the best new book releases. Get book recs straight to your inbox. Sign Up Now.
About The Author, Deborah Harkness
Deborah Harkness is a New York Times bestselling author and history professor at the University of Southern California. Like this boozy blogger, she is a Fulbright fellow and also a Guggenheim and National Humanities Center fellow. Read more about Deborah Harkness.
Where You Can Find A Discovery Of Witches By Deborah Harkness Reviews On TUL
Are you looking for dark academia books like A Discovery Of Witches? Explore our book list filled with creepy and dark books that take place at prestigious universities, colleges, and boarding schools.
Check out these spellbinding books with and about witches perfect for any time of the year.
Don't miss these books set in and across Europe to inspire your travels and spark wanderlust. Explore books and book lists set in countries like France, England, Ireland, Lithuania, Greece, Czech Republic, Germany, Latvia, Estonia, and so many more.