Flexible 7-Day Iceland Itinerary In Winter For Eye Candy Chasers
Are you looking for a flexible 7-day Iceland itinerary with must-see Icelandic beaches, waterfalls, and sights? This one-week self-driving South Iceland itinerary will take you from Reykjavík to the Golden Circle and Southern Ring Road in the winter. Learn more about Vík, Hella, and Jökulsárlón too.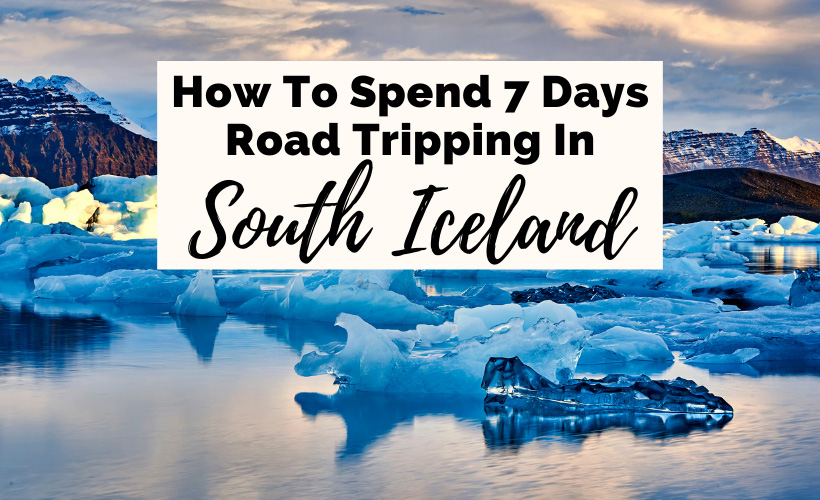 Prior to leaving for Iceland, I fantasized about disco ball dancing lights in the sky. I imagined half-frozen cascading waterfalls and dipping my toes into black sand.
More than anything, I wanted to watch water and steam shoot into the air. Seals playing between diamond glaciers? Yes, please!
Misty turquoise water beckoned to me. Oh, and let's not forget the whisperings of undiscovered schnapps. I had a date with some Brennivín.
What was the best way to see Iceland in a week? What musts and bucket list items did we need to have on our 7-Day Iceland itinerary? What could we miss with such a short winter vacation?
Below, we are sharing a flexible self-driving, South Iceland 7-day itinerary. Is this the best Iceland 7-day itinerary? That's pretty subjective, but we loved it.
If you are looking for things to do in Iceland in the winter, we got you. Let's get started!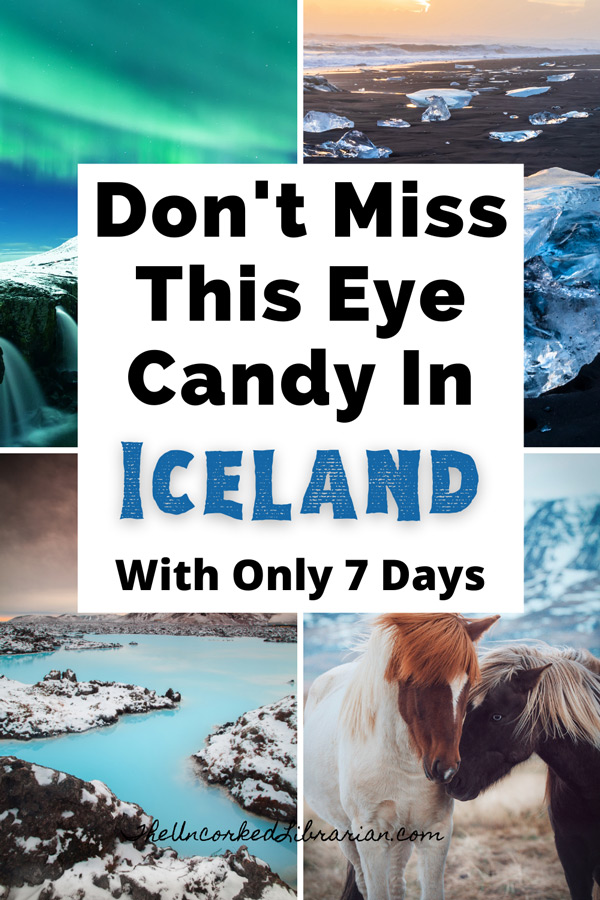 A Glimpse At A Fanstastic 7-Day Iceland Itinerary In Winter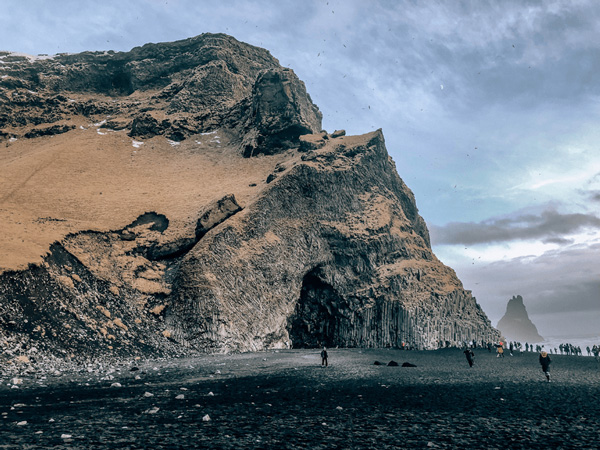 We only had 7 days in Iceland, landing on Sunday morning at 6:10 AM and leaving the following Saturday late in the evening.
Determined to rent a car and see as much of the land of fire and ice as possible in the winter, we carefully laid out a self-driving South Iceland 7-day itinerary starting from the airport.
Bucket list places and experiences we didn't want to miss
Blue Lagoon
Golden Circle
Northern Lights
Southern Ring Road with endless waterfalls, the infamous arch, and black sand beaches
Jökulsárlón Glacier Lagoon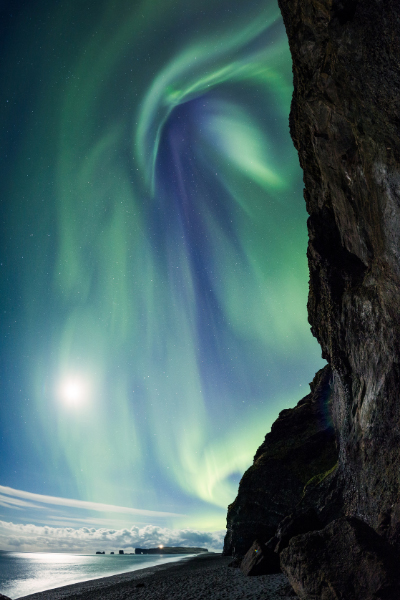 Bases for our 7-day Icelandic itinerary
Although we don't always love jumping around from hotel to hotel, we planned on spreading out our bases across Reykjavík, Hella, and Vik.
Realistically, you can manage this weeklong Iceland itinerary from two cities. Or, if you don't mind driving all day, base yourself solely in Reykjavík. I don't personally recommend that, though.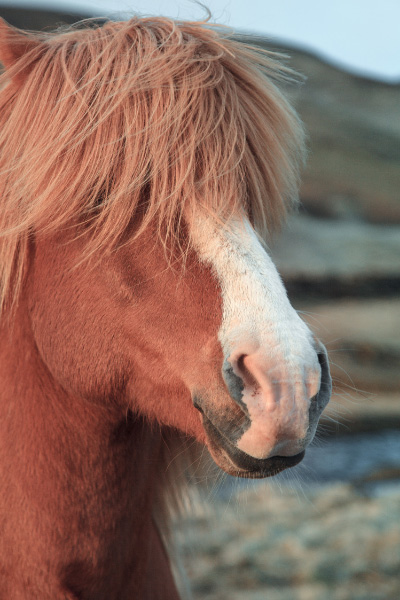 Jökulsárlón is about 5.5 to 6 hours one-way from Reykjavík, which is exhausting in the winter. You would be placing a lot of faith in the weather. Let me warn you, the weather is traitorous. Driving in Iceland in the winter involves some precautions.
We spent 7 days self-driving Iceland through the beautiful volcanoes, black sand beaches, and glaciers. Along the way, we spied Elvis impersonating Icelandic horses, the shy Northern Lights, and a few feisty waterfalls.
Below is how we managed to see the beautiful sights with only 7 days in Iceland while still having downtime. Not to mention that because the sun rises later in the winter, we slept in a bit more to let the ice melt and roads clear.
This self-driving 7-day Iceland itinerary will guide you from Reykjavík to the Golden Circle and Jökulsárlón. Find multiple routes and suggestions, too.
Detailed 7-Day Iceland Itinerary
Day 1: Blue Lagoon and Reykjavík
Morning At The Blue Lagoon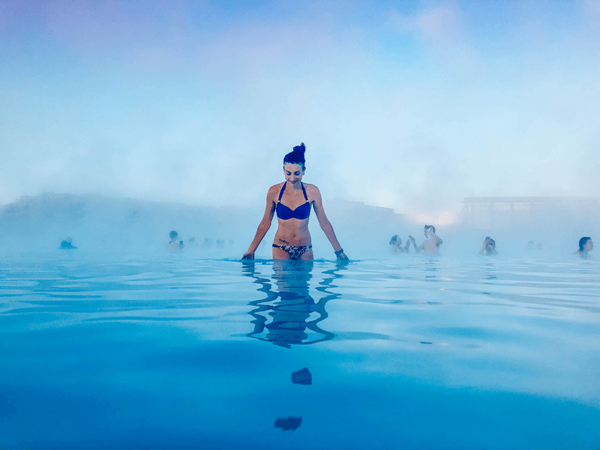 The Blue Lagoon is one of the best ways to beat your jetlag if you have a red-eye flight into Reykjavík. The Blue Lagoon opens at 8 AM, which is also when the 102-degreed F water is less frequented by mobs of tourists.
Expect to spend at least a few hours here soaking in the relaxed vibes, sipping on a cool beverage, and receiving a natural facial of a lifetime. Touristy? You bet.
Should you skip the Blue Lagoon? I'd go at least once and also consider visiting smaller springs and outdoor pools.
---
Don't miss our Complete Blue Lagoon Guide so you know what to expect & how to avoid the crowds.
---
Afternoon & Evening In Reykjavík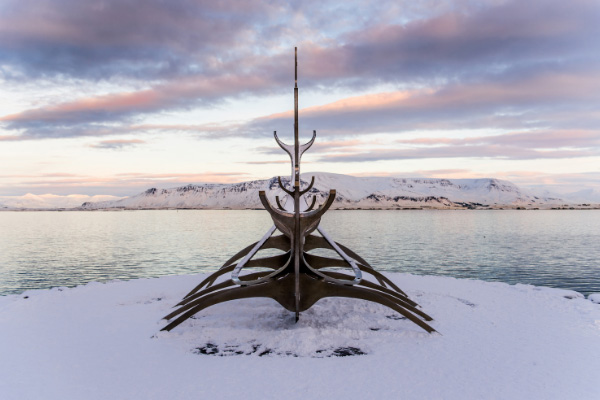 The drive from the Blue Lagoon Geothermal Spa to Reykjavík is about 40-minutes. A few recommendations to start your tour of Reykjavík:
Solfar Sun Voyager – The Sun Voyager is the steel sculpture of a boat overlooking Mount Esja. Largely misunderstood, this installation is not quite a Viking ship but instead, an ode to the sun.

Harpa Concert Hall – Opening in 2011, the concert hall facade is said to resemble fish scales. The stunning inside consists of geometrically shaped glass panels and endless floors. Well-known for classical music concerts, the hall subtly ignores its edgy history, including construction during the 2008 financial crisis.

Icelandic Phallological Museum – Welcome to the world's largest display of penises and penile parts from an assortment of species. This is a small but entertaining museum that sucked us in with dick underwear. The museum is a little pricy for the 30-minutes you will spend here, but why not?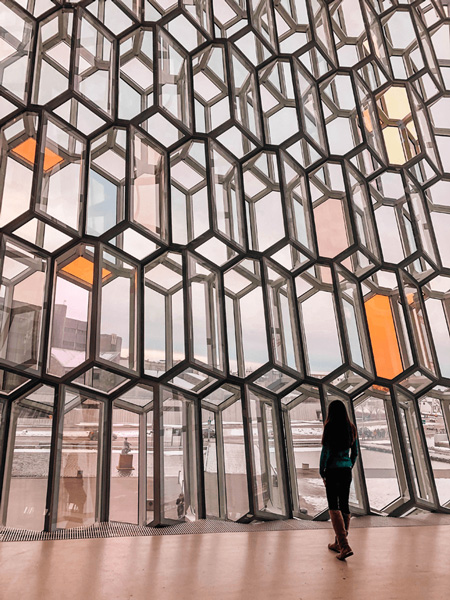 Night at Eyja Guldsneden Hotel.
---
---
Day 2: Reykjavík And Hella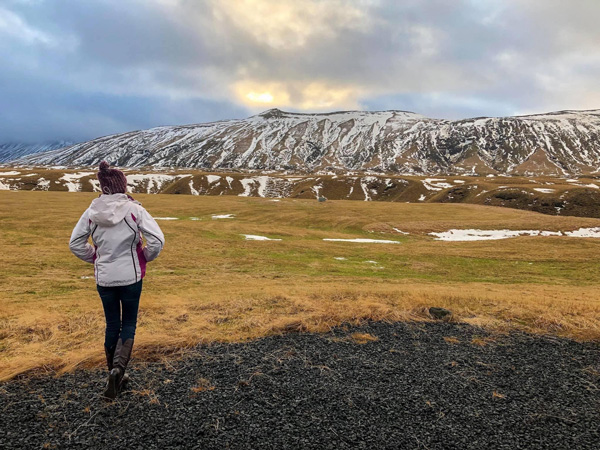 Our original 7-day Iceland itinerary took a beating on day 2 because of the weather. When visiting Iceland in the winter season, please remember that you might have to be flexible for road conditions, skipping attractions and/or selecting a different scenic route.
Originally, we intended on circumnavigating the Golden Circle to Hella. Road closures and blizzard conditions changed our Icelandic itinerary to an extra half-day in Reykjavík and driving down Route 1 straight to Hella.
After visiting the Golden Circle at the end of the trip, I'm grateful for this itinerary change.
---
What most 7-day itineraries for Iceland in the winter don't tell you: you have to have flexible plans due to weather, especially if you are self-driving. Don't miss this Must-Read Driving In Iceland Checklist.
---
More Time In Reykjavík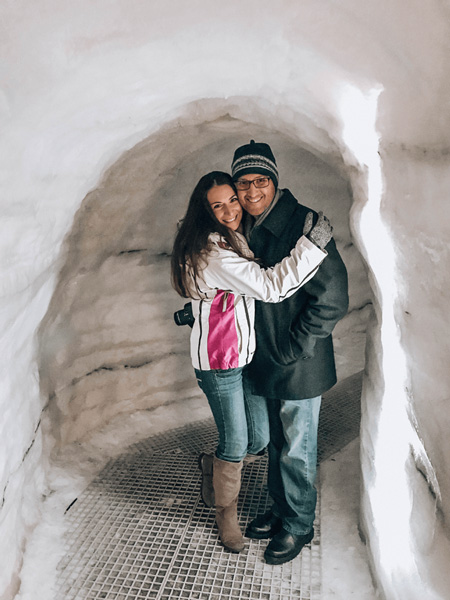 Reykjavík has endless options for food, museums, free walking tours, and strolling downtown. Recommendations are endless.
We almost skipped Perlan, but the structure felt too iconic to just glimpse from afar.
Perlan – A first-class but also a fancier cheesy museum, you can tour a simulated ice cave if it's too snowy to hike a real one. Dress warmly or borrow their coats. Perlan offers a magnificent planetarium and 360-degreed viewing platform of Reykjavík.

Fresh Seafood Lunch – We loved eating fish on skewers at Saegreifinn.
Once the snow settled and the road maps advised us to forge ahead, we started the icy journey to Hella.
Hella is a small Icelandic town with at most a few thousand inhabitants. In 2019, Hella recorded 865 residents. Known for quiet country stays and Northern Light viewings, we decided to stop here before heading to Vík. Some travelers go straight to Vík, instead.

The staff members at Hotel Selid cooked us dinner from their local menu with two delicious choices plus soup and dessert. You don't get much sweeter than this.
We loved our little farm B&B stay full of simplicity with the basics. Rattling wind on the roof lulled us to sleep under a sky void of light pollution.
If you are looking for a more glamorous overnight, though, we had numerous friends and bloggers recommend Hotel Ranga, which is across the way.
Day 3: Seljalandsfoss, Gljúfrabúi, Skógafoss, Dyrhólaey Nature Preserve, Reynisfjara Beach, Vík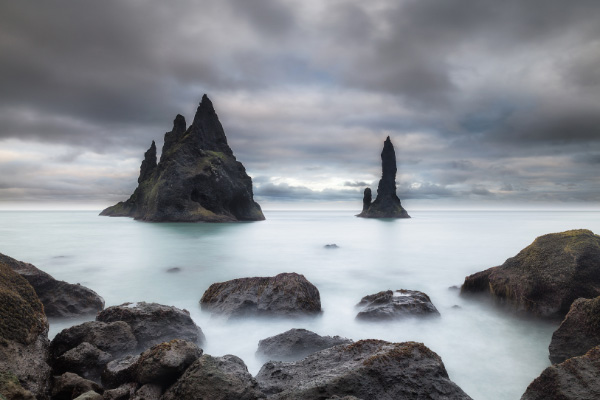 When you wake up to a double rainbow, you know this is going to be one stellar travel day. Even with 35mph+ winds and temperatures rising into the high 30's, we could not help but to roll down the car windows.
Passing fluffy Icelandic horses that looked like Elvis, the southern Ring Road waterfalls called to us.
Seljalandsfoss and Gljúfrabúi Waterfalls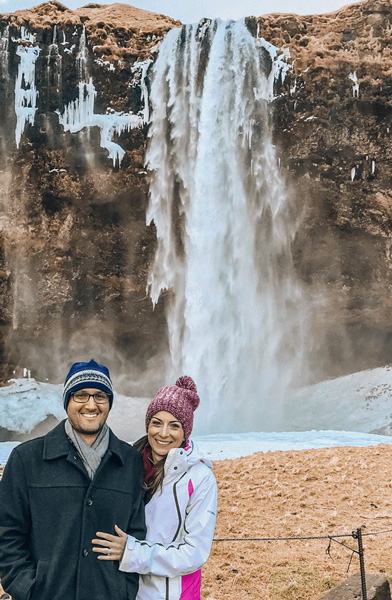 The Icelandic word for waterfall is 'foss' and there are quite a few of them.
You truly cannot miss Seljalandsfoss since you can see it from Route 1. One of the most famous waterfalls in Iceland, find walking paths around the waterfall.
Because of the ice, we could not take the path directly behind the waterfall, which offers a different perspective.
Prepare to get a little wet no matter which way you go.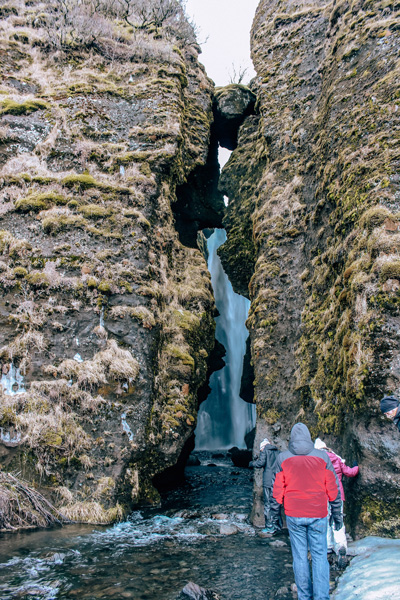 Located off to the left of Seljalandsfoss, walk to Gljúfrabúi. Gljúfrabúi feels as if a magical world lives inside the cliffs…until the tourists come.
Hidden within a rock crevice, brave and appropriately dressed waterfall seekers can rock hop into the waterfall. Standing on the edge, I can tell you that this one is slippery.
---
---
Skógafoss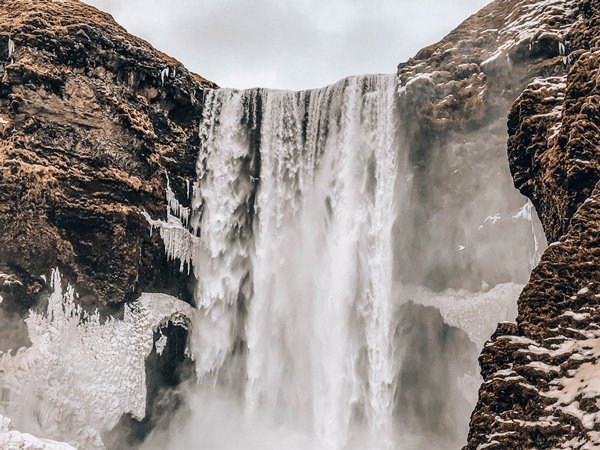 Once you jump back on Ring Road toward Vík, you meet up with Skógafoss. With Skógafoss, you can walk right up to the waterfall or climb the steep steps along the side to get a higher vantage point.
If you are lucky, you might catch a rainbow over the falls. Personally, I loved the birds circling around the top.
Located in the town of Skógar, you can also find tasty places to stop for a quick lunch without going too far out of your way. Gosh knows I get pretty hangry.
Dyrhólaey Lighthouse & Nature Preserve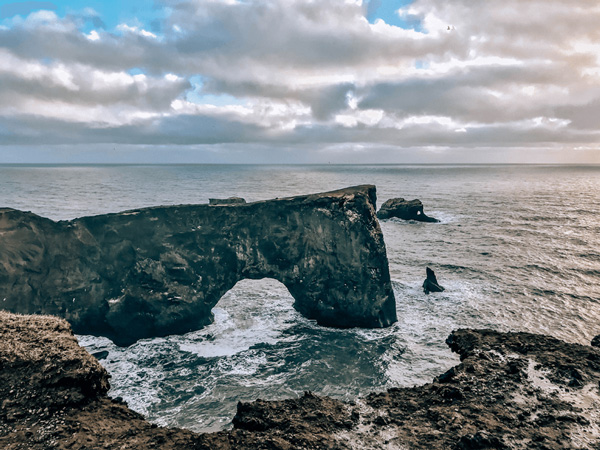 Don't miss Dyrhólaey, although note that it might close during spring and summer nesting season. Dyrhólaey loosely translates to 'door island on a hill.'
Hence, you'll find the famous Dyrhólaey Arch among the rocks in front of the Dyrhólaey Lighthouse. Dyrhólaey also offers stunning views of Reynisdrangar (basalt sea stacks), Reynisfjara (black sand beach), and Mýrdalsjökull (glacier).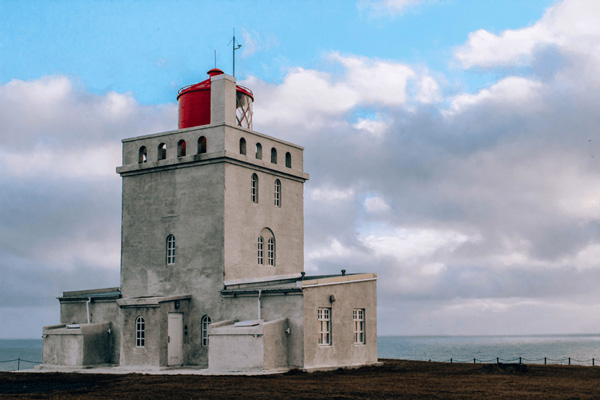 You will need a 4WD vehicle to climb up the hill toward the lighthouse, especially in the winter season. There is a lower level, too, for bird watching and a different angle of the arch.
This is a great place to stretch your legs and know it is muddy.
Reynisfjara Beach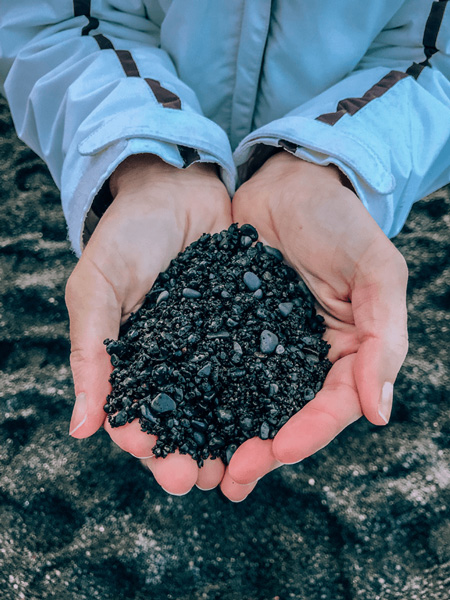 Learn about sneaker waves, find basalt columns, and of course, dip your feet into eroded volcanic rocks. Don't forget to spy the small cave and check out the rock formations.
When visiting Reynisfjara, signs will warn you that volatile waves can sneak up on you. Some are deadly. Use your best judgment and leave room between you and the waves.
Evening in Vík at Hotel Vík í Mýrdal. (This was an Icelandair Hotel when we stayed. It changed in 2019).
When planning our 7-day Iceland itinerary, we decided to stay in Vík for two nights to see the glacier lagoon and hopefully catch the Northern Lights. Hella would have provided the perfect viewing town had the clouds drifted.
---
---
Day 4: Jökulsárlón, Svínafellsjökull, and Skaftafell
Have you ever excitedly anticipated a portion of your trip? Jökulsárlón felt like my Magic Kingdom. I daydreamed of glaciers, but the weather worried me.
Skaftafell and Jökulsárlón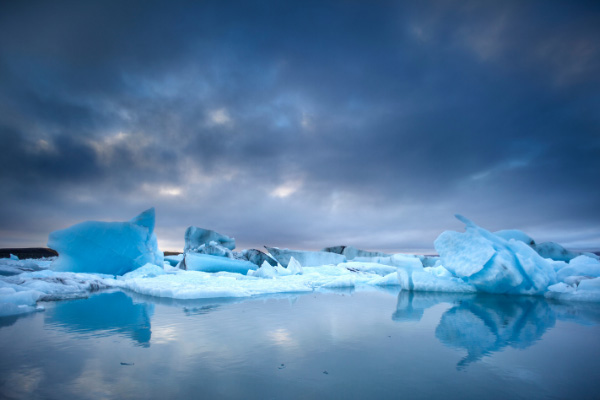 A 2.5-hour drive from Vík, the ride to Jökulsárlón provided endless views of black sand beaches, volcanos, mountains, and glaciers. With Jökulsárlón as our number one priority — and when faced with snow — we headed to the glacier lagoon first.
You can stop at Svínafellsjökull or Skaftafell on the way. Skaftafell offers hiking, glaciers, glacier hiking, and waterfalls, which we wimped out of at the end due to snow. There are also legal pullovers on the side of the road to take pictures of the glaciers from farther away.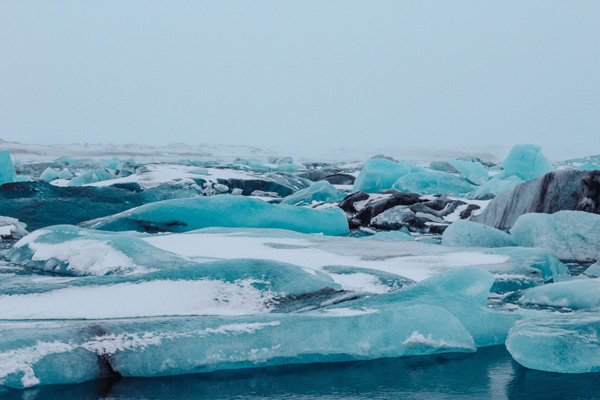 An out-of-this-world experience, we deliriously giggled as seals played between the glaciers at Jökulsárlón. If you visit during a different time of year, you may also have access to Zodiac boat tours of the glaciers. I didn't mind viewing these beauties from afar.
Who knew glacier tops could be so blue? If time permits, you can also visit Diamond Beach. Our tummies rumbled for a hot dog at the food trucks, and we decided to head to Svínafellsjökull.
Svínafellsjökull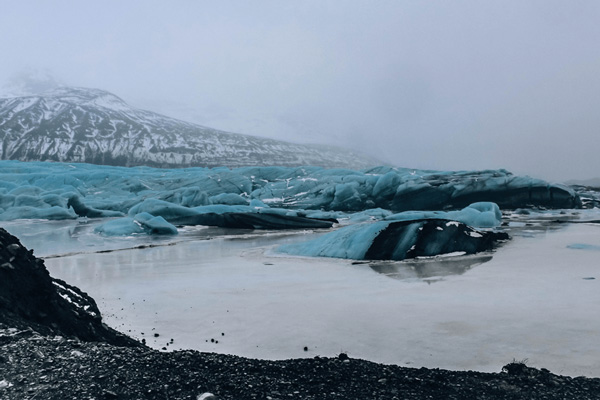 Some people opt to spend a night closer to the glaciers at Höfn. We headed back around to Vík to visit Svínafellsjökull for an up-close glacier view.
Our hotel staff members told us about this more hidden gem. You need 4WD to reach the tiny parking lot. Just when you are about to give up thinking that you are on the wrong road, a gorgeous glacier welcomes you.
Watch for falling rocks as the signs warn.
Evening in Vík at Hotel Vík í Mýrdal.
Guess who came out to play? We caught the Northern Lights and headed up to Vík í Mýrdal Church for a better view.
---
---
Day 5: Vík To Reykjavík via Selfoss & Kerið Crater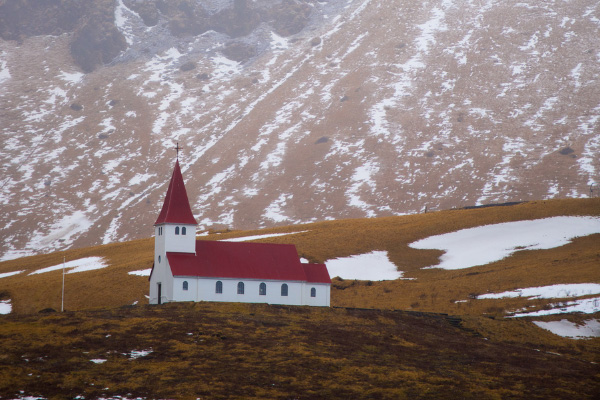 We debated heading to the Golden Circle from here but again faced poor road conditions. This gave us the perfect opportunity to spend some time in Selfoss and curve up into the Kerið Crater — which was a pool of snow. Grateful for the extra time, we had endless exploring options.
Vík
Notable mentions for Vík include:
Vík í Mýrdal Church – The Vík Church is worth a few minutes of your time for the views and because, quite frankly, it is cute AF from the outside. Honestly, this is what I picture when I think of Iceland.

Smiðjan Brugghús – If there is a brewery, I will find it. Full of Icelandic brews, you can't go wrong. They also serve burgers.

Restaurant Suður Vík – If you are looking for a tavern tucked on a hill, we loved these guys for some grub.
After leaving Vík on the way back to Reykjavík we passed the abandoned DC-3 plane on the black beach at Sólheimasandur. You used to be able to drive out to the plane crash.
Now, visitors have to walk about 45-minutes to see it. This somewhat touristy oddity didn't appeal to us, and I am married to a pilot. We continued on to Selfoss.
Selfoss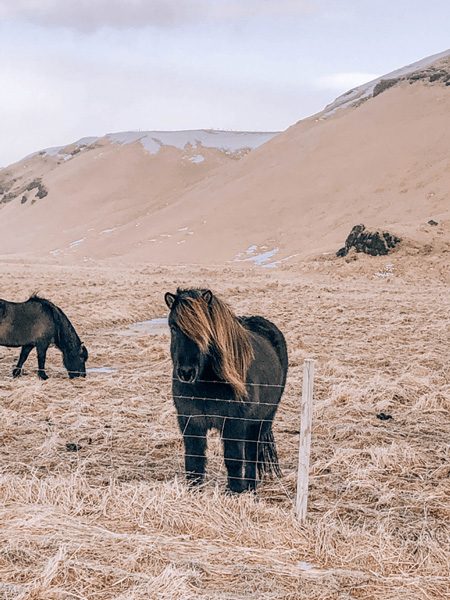 Selfoss offers the most civilization you will see on southern Ring Road. A pit stop for food and gas, find shopping as well as a break from driving. Near downtown Selfoss, there is another brewery and Icelandic horseback riding tours.
We decided to stop for lunch and take the 15-minute detour off Ring Road to Kerið Crater.
Kerið Crater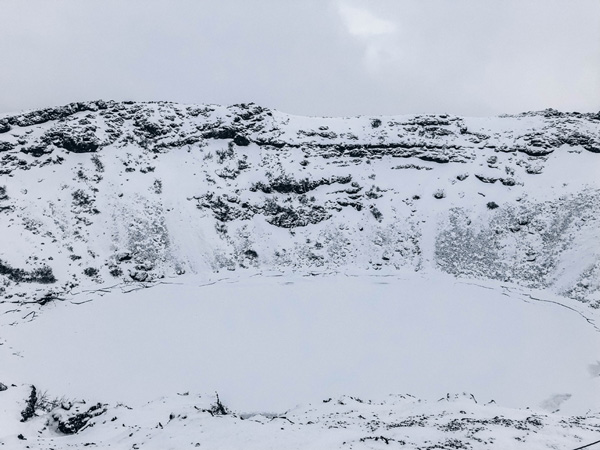 I daydreamed of seeing bright blue water in a doomsday crater. Unfortunately, it was snowing heavily. Imagine looking down into a pool filled with cement. Still cool? Sure.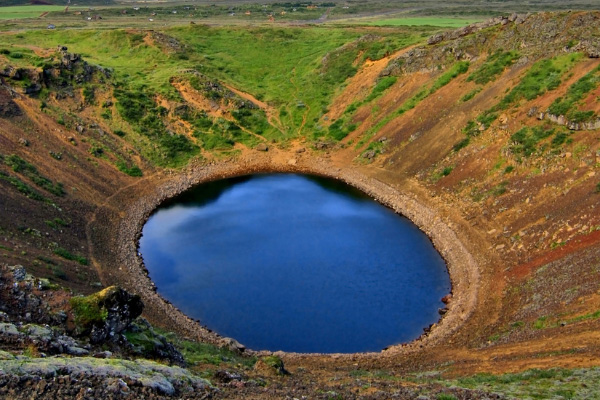 Night in Reykjavík at the Fosshotel Reykjavík.
6th Day: The Golden Circle With Þingvellir, Geysir, and Gullfoss
As with any travel blog, no week-long Icelandic itinerary is perfect. There are many ways that you can tour an area.
Since we planned for snow and bad weather, we cushioned our 7-day Iceland itinerary with extra time to return to missed locations.
For us, most of Iceland's Golden Circle happened on Day 6. Located close to the mountains in that higher elevation, you just have to watch the road conditions, especially around Þingvellir (Thingvellir).
Þingvellir National Park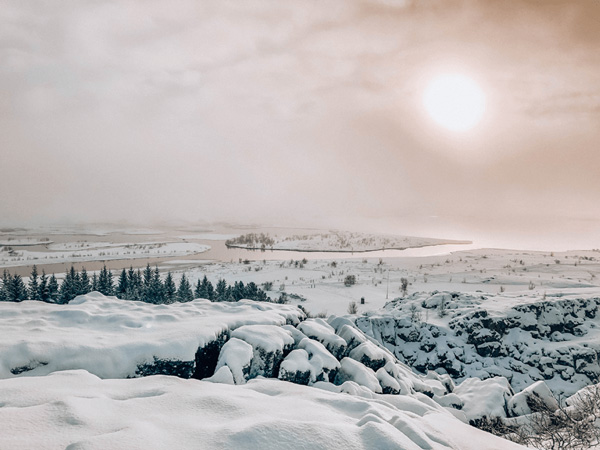 Home to Iceland's parliament in the 10th to 18th centuries, walk around trails to waterfalls, beautiful viewpoints, and historic landmarks. In February, snow paths greeted us, and we hiked/slid as long as our frozen toes could manage.
Geysir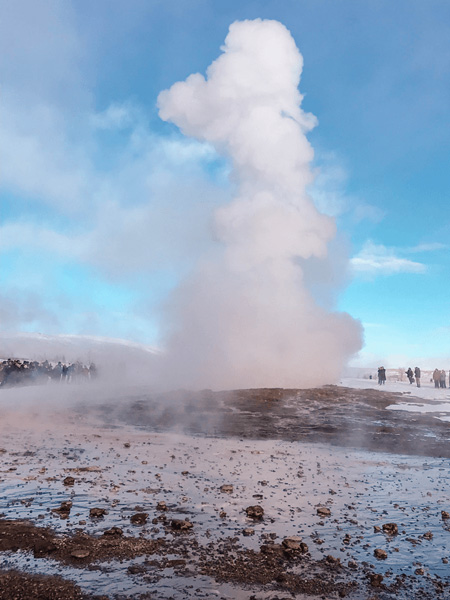 Pronounced something that sounds like Geezer with a British accent, watch as Strokkur shoots into the air around every 10 to 15 minutes. The surrounding geothermal field is alive and well, smoking and boiling.
Geysir has not erupted for decades so unlike my husband, don't stand in front of the beast expecting that bad boy to blow anytime soon.
Gullfoss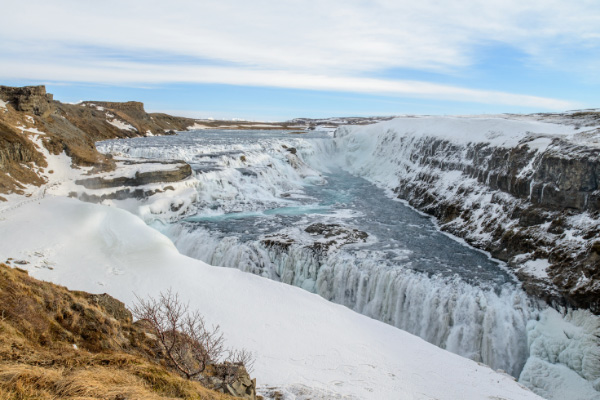 A much smaller scale than Iguaçu Falls in Brazil, Gulfoss surprised us with a series of powerful waterfalls. From here, you can either turn and head back the way you came from Reykjavík or head back down through Selfoss.
Night in Reykjavík at the Fosshotel Reykjavík.
Day 7: Reykjavík & Airport Home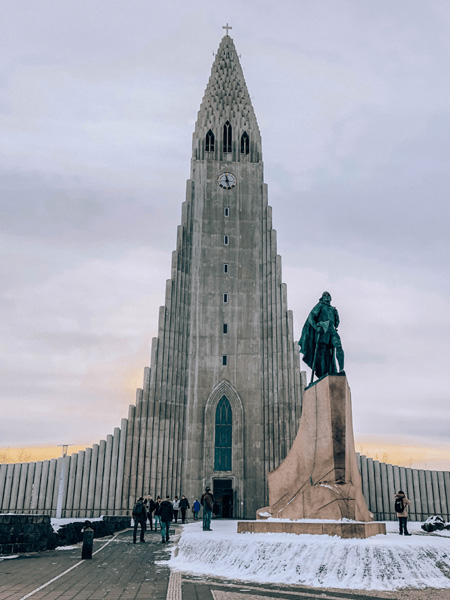 Our last day in Iceland before heading back to the airport, we left largely open. We wanted plenty of wiggle room to catch up on sights that we missed.
For our last chance to tour Reykjavík we wanted to casually walk around the downtown areas, mural spying and taste tasting our way through the city.
A few last places to see on your 7-Day Itinerary In Iceland:
Hallgrímskirkja – This Lutheran parish church is the tallest building in Iceland at 74.5 meters. You can take an elevator to the top to see the city.

Old Iceland Restaurant – For our last meal in Iceland besides the airport, this might have been one of our favorite restaurants. Of course, ingredients are locally sourced and traditional Icelandic cuisine.

Laugavegur – This little scenic street is full of window-shopping, cafes, and bars. Along the way, turn down side streets for urban art.
Then, board the plane. Look wistfully out the window. Shed a tear or two.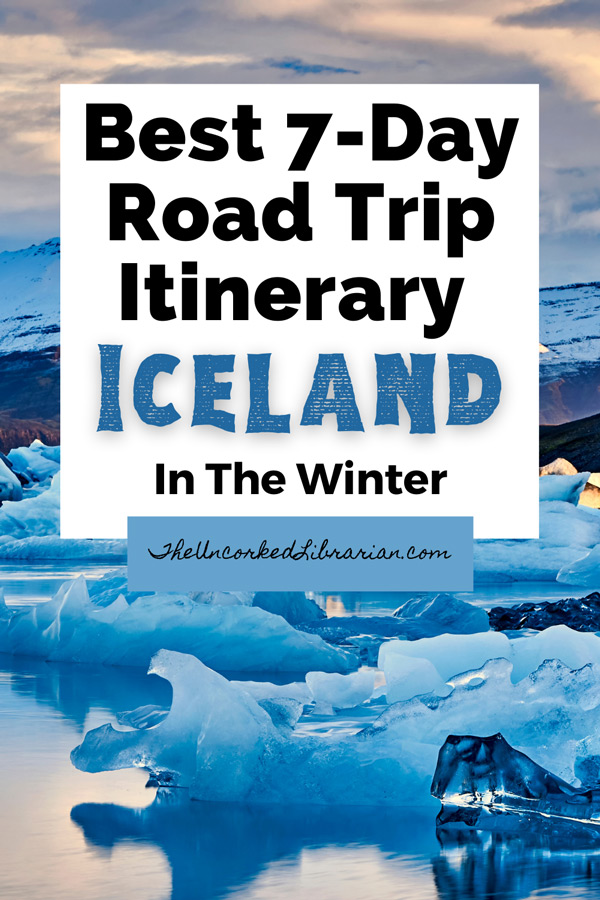 Are you ready to plan your 7-Day Iceland Itinerary?
We loved our week itinerary in Iceland, especially since it was chill enough to modify but also took us to the gorgeous must-see sights of Southern Iceland. Have you been to Iceland? Did you self-drive? What did you love?
We cannot wait to go back. We rarely pick a favorite country, but Iceland is definitely in the running.
This post originally published on March 8, 2019 and is updated for 2021.
Where Should You Head Next?
Reykjavik In A Time Crunch
Winter In Iceland Complete Guide
Should You Self-Drive In Iceland In Winter?
Is The Blue Lagoon Worth A Visit?
For Book & Booze Lovers
Legendary South Iceland Waterfalls
Icelandic Christmas Traditions: The Infamous Book Flood
Must-Sip Iceland Alcohol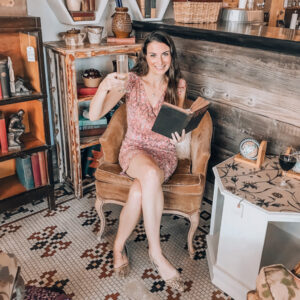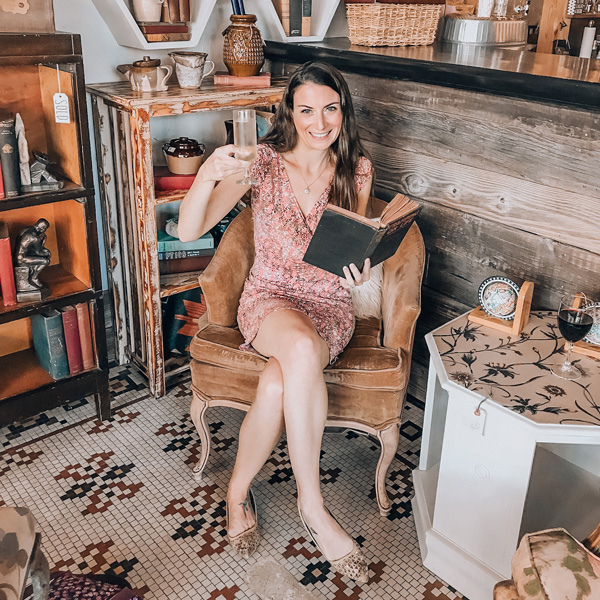 Christine (she/her) is the owner, lead editor, and tipsy book sommelier of The Uncorked Librarian LLC, an online literary publication showcasing books and movies to inspire travel and home to the famed Uncorked Reading Challenge.
With a BA in English & History from Smith College, an MLIS from USF-Tampa, and a U.S. Fulbright Fellowship in Christine's back pocket, there isn't a bookstore, library, or winery that can hide from her. Christine loves brewery yoga, adopting all of the kitties, and a glass of oaked Chardonnay. Charcuterie is her favorite food group.